Twitter and the court drama continues
Torin Douglas
Former media correspondent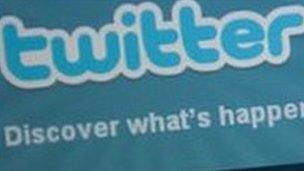 This round-up of today's main media stories includes two new developments in the battle between Twitter users and the courts.
The Independent says lawyers last night called on the courts to take action to enforce injunctions broken over the internet, after another social media user purported to publish details of celebrity gagging orders. A newly created Twitter account posted details of 13 alleged injunctions early yesterday morning.
The Daily Mail says Twitter has been forced to hand over the details of users of its website "in a landmark legal ruling". South Tyneside Council went to the US courts to force Twitter to reveal the person behind the 'Mr Monkey' account, a blogger who criticised officials and councillors. The Mail says the case could have widespread implications for users of the social networking site, and lead to a flood of actions by lawyers trying to find out the names of anonymous posters in order to sue them.
South Tyneside Council says Twitter has released details about a Twitter user behind allegedly libellous statements. The BBC's technology correspondent Rory Cellan-Jones plays down its significance for the Ryan Giggs case: "Whereas the South Tyneside case involved a defamation suit brought in a US court, the footballer's lawyers are trying to get a UK court order imposed on a US company."
The judging panel for ITV1's The X Factor has been confirmed, with places for Take That's Gary Barlow, pop impresario Louis Walsh, American singer Kelly Rowland, and Tulisa Contostavlos of the hip-hop outfit N-Dubz - but none for Cheryl Cole. The announcement ended a weekend of speculation over the singer's next move after she was dumped from the show's US version. The Guardian says the media have been in overdrive, with reports of how "close friends" suggest that Cole, 27, has been hard done by.
The Financial Times says private care homes in Britain are facing a "deepening crisis". The front pages of the Daily Star, the Sun, and the Daily Mirror illustrate the crisis at football's world governing body Fifa, as reported in the BBC's newspaper review.