Rare Chaplin film goes up for sale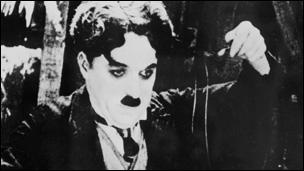 A rare Charlie Chaplin film, bought for £3.20 on eBay, is expected to fetch a six-figure sum when it goes up for auction in June.
The film, Charlie Chaplin in Zepped, is the only known surviving copy and is thought to feature some of the earliest-known animation.
Collector Morace Park bought the film reel in 2009 because he liked the look of the tin.
The movie shows Chaplin bringing down a German Zeppelin aircraft.
It is thought to have been made as a morale-boosting propaganda film for British troops.
The footage lasts nearly seven minutes and features a Zeppelin raid over London.
Park said he had consulted various experts about the film.
Some thought it was an experimental movie, while others believed it was made without Chaplin's knowledge.
"This film is an enigma," said Park.
"It leaves so many unanswered questions."
Some academics believe the Zeppelin is real but it has also been suggested the aircraft is an early example of animation puppetry.
During the First World War, Zeppelins were used in bombing raids over England and France. They were referred to as "terrors of the sky".
The film was classified by the British Board of Film Classification (BBFC) in 1917.
A footnote in the records shows that the film was given an export licence, and the beginning of the film has censorship frames suggesting it may have been sent over to troops based in Egypt.
The movie will go up for auction at Bonham's in Knightsbridge, London, on 29 June.
Stephanie Connell, head of entertainment memorabilia at Bonham's, said: "It will no doubt become a significant contribution to the history of early film."
Related Internet Links
The BBC is not responsible for the content of external sites.