Metropolitan Opera stars quit Japanese tour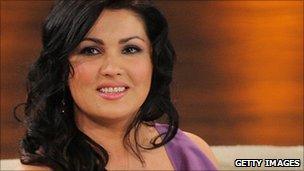 Two stars of New York's Metropolitan Opera have bowed out of a tour of Japan, citing fears of radiation from the Fukushima nuclear plant.
Soprano Anna Netrebko and tenor Joseph Calleja announced at the last minute they would not join the tour, despite assurances they would be safe.
In a statement, the Met said it had been forced to "scramble" to find replacement stars.
The Japanese earthquake and tsunami of 11 March left around 25,000 dead.
It crippled the Fukushima plant north of Tokyo, leading to radiation leaks.
The Met said it had brought in an expert on radiation to reassure members of the company.
But Russian-born Netrebko remained unconvinced, the Met attributing her decision to "the emotional weight of having also lived through the tragedy of Chernobyl".
"She didn't feel that she would be able to present her best performances and didn't want to disappoint her Japanese fans," its statement continued.
Calleja, the Met added, "also had last-minute misgivings about performing in Japan at this time."
Soprano Marina Poplavskaya has been released from a concert in Paris to join the tour, which runs from 4 to 19 June.
Tenors Marcelo Alvarez, Rolando Villazon and Alexey Dolgov will replace Calleja and Germany's Jonas Kauffmann, who withdrew from the tour last month.
"Part of what makes opera such an exciting art form is that it is so unpredictable," said the Met's general manager Peter Gelb on Tuesday.
"If there were a rationality clause in opera singers' contracts, not many opera singers would perform."
The Vienna Boys Choir, the Lyon Orchestra and the Stuttgart Chamber Orchestra are among several organisations to have cancelled concerts in Japan in the wake of the disaster.
Yet not all artists have stayed away. Last month opera giant Placido Domingo performed in Japan, later donating $200,000 (£121,000) to relief efforts.
Related Internet Links
The BBC is not responsible for the content of external sites.