Broadway theatres score record revenues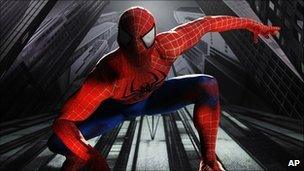 Broadway theatres took a record $1.06bn (£643m) last year, figures show.
The Broadway League, the industry's trade association, said takings were up from $1.02bn (£620m) in 2009-10.
It attributed the success to the diversity of shows currently on the New York stage, including 42 new productions which opened in 2010-11.
Attendance figures were also up 3% at 12.26m thanks to Hollywood stars and established shows such as The Lion King and Wicked drawing in crowds.
Ticket sales were also helped by a season which included well-received hits like spoof musical The Book of Mormon from the creators of South Park, War Horse, which transferred from London's West End, and Spider-Man: Turn off the Dark which was beset with production difficulties.
Producers have also increased revenue in recent years from premium front-of-house and last-minute seats, which can sell for as much as $400 (£244).
"The diversity of shows currently on Broadway succeeds in providing something for everyone," said Charlotte St Martin, the Broadway League's executive director.
"So it's no accident that we're having the biggest season in our history and even in the toughest economic times have more than a 5% increase in attendance year-over-year."
Meanwhile, Hollywood stars are facing a backlash over their roles on stage.
Some lesser-known Broadway actors are worried that big stars could threaten their jobs and are reducing their chances of winning Tony awards.
Last year saw four Hollywood actors including Scarlett Johansson win a Tony, while stars including Al Pacino are nominated at this year's ceremony taking place next month.
Actor Hunter Foster, who starred in the Broadway production of The Producers, started the Facebook group Give the Tonys Back to Broadway! in an effort to combat the Tinseltown effect.
But The Broadway League, which presents the awards, said there was no link between Hollywood stars and nominations.
"If you look at the shows, most of the people who got good reviews are nominated," said Ms St Martin.
"People whose reviews were not as good, either for the show or the individual, perhaps are not."
Related Internet Links
The BBC is not responsible for the content of external sites.