Geordie Shore is 'good for Newcastle'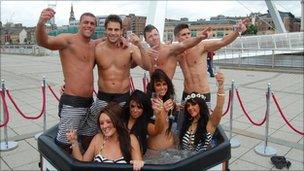 MTV has defended its controversial reality show Geordie Shore, denying it shows Newcastle in a bad light.
The series, which began last week, follows the antics of eight party-loving friends as they drink, fight and chase the opposite sex.
Kerry Taylor, MTV UK's director of TV, told BBC Newcastle that the cast had "some really admirable qualities that reflect really well on Newcastle".
"We feel that visually we've made Newcastle look really good," she added.
The programme has been criticised by Newcastle Central MP Chi Onwurah, who said it was "bordering on pornographic".
The local tourism board said it relied on "outdated stereotypes" and had provoked a "fierce reaction" among locals.
According to Ms Taylor, though, the show made Newcastle "look like a really vibrant place with a fantastic social scene".
"The show has got some slightly outrageous pieces, and we're absolutely not trying to represent the north-east.
"[But] I do think the qualities that come across in the characters - their warmth, their sense of loyalty to each other and their sense of humour - are really admirable qualities and I think that's a really positive perspective on the north-east."
The cast members reflected "many of the values of being a Geordie", she added, saying the show had been successful because the stars were likeable.
The first episode, screened last week, saw cast members vomiting, stripping off in a hot tub and brawling in a nightclub.
It achieved the channel's highest ratings for eight years, proving it was "a show people are excited to see", Ms Taylor said.
It provided "a good opportunity for people to talk about Newcastle", she went on, and for the city to use the spotlight to inform viewers about "the other aspects of Newcastle".
The show, a British version of the hit US series Jersey Shore, was "completely real" and not scripted, Ms Taylor continued.
"We're not making them do anything they don't want to do," she stressed.
After the first episode, Chi Onwurah told the Evening Chronicle the show was "exploiting those young people and exploiting our city".
Ms Onwurah said she would ask questions in the House of Commons about the issues raised by MTV's production.
Related Internet Links
The BBC is not responsible for the content of external sites.