Hospital arrests after Panorama undercover report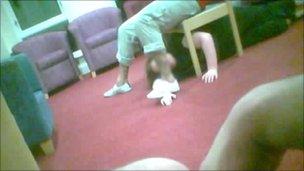 This round-up of today's main media stories includes the arrest of four care workers after secret filming by BBC Panorama.
Police in Bristol have arrested four people after secret filming by BBC Panorama found a pattern of serious abuse at a residential hospital, reports BBC News. The hospital's owners, Castlebeck, have apologised unreservedly and suspended 13 employees.
Marketing Week says the Ministry of Defence is preparing a communications campaign to warn services personnel and their families about the danger of revealing sensitive information on social networking sites. It says the "careless talk costs lives" campaign is in response to information about operational events, travel details of ships and aircraft, troop movements and home addresses being inadvertently leaked online.
Peppa Pig is set to make a massive splash in the US - having signed a deal with toy giant Fisher Price, says the Daily Mail. The trans-Atlantic alliance is expected to trigger a windfall of as much as £600m for Entertainment One, the company that owns the rights to the hit animated TV series.
Radioplayer, the ambitious digital radio service backed by the BBC and commercial stations, attracted 5.7 million listeners in May, according to its first figures, reports the Guardian. The internet radio service, which features more than 200 local and national stations, launched eight weeks ago.
The Advertising Standards Authority has ruled that the claim by the inewspaper that it contained "no celeb gossip nonsense" was misleading and must not be used again, reports the Guardian. The newspaper hit back, claiming that its celebrity stories differed from the gossip in other titles because "unlike other newspapers they [are] based on factual content and not hearsay".
A TV commercial for a film, which featured a man's head exploding and was broadcast during teen show Glee, has been banned by the advertising watchdog, reports BBC News. The ASA said the ad for The Mechanic showed a "stream of violent imagery".