Doris Day to release new record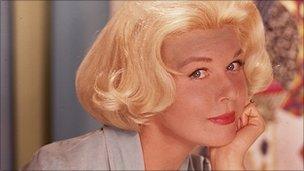 Hollywood star Doris Day is to release her first studio album for nearly 20 years, featuring nine previously unreleased recordings made in 1985.
My Heart, out on 5 September, is the 87-year-old's first release since 1994's Love Album.
The unheard recordings were produced by Day's son Terry Melcher prior to his death in 2004.
These include cover versions of the Joe Cocker ballad You Are So Beautiful and the Beach Boys track Disney Girls.
"I had to sing some modern songs because I had already done all the old ones," the singer said in a statement.
The album also features three Day classics, among them My Buddy - a song she sang in her 1951 film I'll See You In My Dreams and which she dedicates to her late son.
Day had more than 20 Top 10 hits in the UK and US during her career, including Que Sera, Sera and Secret Love.
She had her first hit record in 1945 with Sentimental Journey as vocalist for the Les Brown Big Band Orchestra.
Day went on be one of the most popular actresses of the 1950s and 1960s, starring in 39 films opposite the likes of Clark Gable and Rock Hudson.
She also recorded more than 600 songs and fronted two US TV series during her career.
Day left the world of showbusiness more than 30 years ago to found the Doris Day Animal Foundation in 1978.
Yet she continued to be recognised, receiving a Golden Globe for lifetime achievement in 1989 and an honorary Grammy in 2008.
Related Internet Links
The BBC is not responsible for the content of external sites.