Sir Terry Wogan examines comic writer PG Wodehouse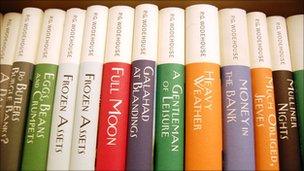 Sir Terry Wogan is to host a documentary which looks at the British comedy writer PG Wodehouse.
The BBC Two programme is part of a new season of arts programmes announced on Wednesday.
The programme, with the working title of Wogan On Wodehouse, will include rarely-seen interviews with the writer and well-known fans of his work.
Sir Terry has been a long-time admirer of Wodehouse, best known for creating Jeeves and Wooster.
The show follows Sir Terry as he "attempts to solve some of the paradoxes he sees in the life and long career of this much-loved, undeniably prolific and occasionally controversial comic writer".
PG Wodehouse, who died in 1975 aged 93, was also noted for contributions to musicals, including Anything Goes and Showboat.
His witty prose - poking fun at the English upper classes - has won him numerous fans, who continue to celebrate his writing more than 30 years after his death.
The arts season will also see presenter and art critic Andrew Graham-Dixon teaming up with chef Giorgio Locatelli to look at the cultural heritage of Sicily, in Sicily Unpacked.
And, in a separate programme, Arena will look at the life of humorist and theatrical director Jonathan Miller.