Nerina Pallot on how pregnancy influenced her new album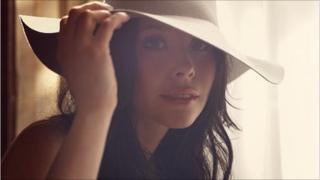 How does pregnancy affect a musician? British singer-songwriter Nerina Pallot says it altered everything, from her lyrics to her singing voice.
It was a fact she discovered after deciding to get her fourth album committed to tape before her first son was born last September.
Year Of The Wolf was produced by Bernard Butler - the former Suede guitarist, who steered Duffy to success in 2008.
It's more reflective moments were influenced by impending motherhood but Pallot had a few swaggering pop numbers up her sleeve, too. Hardly a surprise, given her close working partnership with Kylie Minogue.
The singer-songwriter told the BBC how the record took shape - and how it differs from a Kylie album.
Why did you call the album Year Of The Wolf?
It's both sentimental and highly unoriginal. My son is called Wolfie and I made the album while I was nine-and-a-half months pregnant. I was pretty much recording until 12 hours before I had him.
How did pregnancy affect the recording?
It never occurred to me how hard it would be to sing when I was pregnant! When I went back into the studio, five weeks after I'd had Wolfie, I could suddenly sing a lot louder.
Why is that? Because the baby's pressed up against your diaphragm?
Yes, it's weird. But I became used to it… Then, for the first few weeks after he was born, I found it strange to not have this little person inside me. I'm sure a lot of new mums would say the same. I missed that feeling of always knowing where my baby was.
Did motherhood affect your lyrics?
There's a song called History Boys that I would never have written if I hadn't become a mother, because it changed my perception of the world.
That song is talking about casualties of war. "All these ghosts / Sons of mothers."
I was four months pregnant, and watching footage of fallen soldiers coming home at Wootton Bassett and it just… [pauses] I suddenly related to those boys as people's kids. And I couldn't stop weeping, because I thought, "gosh, I'm having a little boy and maybe one day he'll want to become a soldier, and I might have to deal with something as horrid as that."
You can feel the emotion in your vocal…
I was trying to be political without being political. On a human level, regardless of whether a particular war is wrong or right, there's a human sadness and tragedy at the heart of it. And that's what I was trying to describe in the song - loss. The senseless loss of young lives.
There's a thematic link between that song and your first big single Everybody's Gone To War. Has your viewpoint changed at all?
I haven't thought about that - but I suppose, on a personal level, I feel less angry, more sad.
It's quite easy to be angry in music, because you just turn everything up. But real sadness - sadness that isn't cloying or sentimental - is the hardest thing to convey. I really wanted people to be moved and thoughtful at the same time.
At the opposite end of the spectrum, musically and lyrically, is Turn Me On Again, which is incredibly sexy…
I hope so! I mean, one of the things about babies is you need to get your groove on to have one!
The song's about the bit before that - the chase - which is the best bit, isn't it? Many times, I've either chased or been chased by a bloke who, afterwards, I think "what was all that fuss about?"
You have a lyric that exemplifies that: "Fill my head with dumb desire".
Exactly! We pursue people who, in five year's time, we'll cross the road to avoid... But you've got to do it. It's fun!
Has anyone ever confessed to playing one of your records while they made their own baby?
Yeah, a lot of people want me to play Geek Love, a song off my second album, for that purpose. A lot of people say they got jiggy after that one.
That must be a very weird feeling.
Yes. I'm happy to meet people. I don't really want to know what they get up to in their bedrooms.
Working with Bernard Butler seems to have added a bit of grit, compared to the out-and-out pop of your last record, The Graduate. How did the collaboration come about?
Bernard is a near neighbour of mine. In the block where I have a studio with my husband, he's in the flat downstairs. And we're both avid Arsenal fans. So it was born of proximity and mutual love of football…
Also, I wanted to make a concerted effort to bring back the rock element to my records. Bernard had a vision for that. We rehearsed a band and cut most of the album live. I think that's where that grit comes from - just a bunch of people in the studio playing together.
Do you find that, with all the possibilities of modern technology, it's too easy to waste time looking for the "perfect take"?
Yes, and the perfect take technically is not always the perfect take emotively. I have a parallel career working for other artists, and so far that's been for "uber-pop" artists. For those jobs, I spend hours editing. That's part of the way it works, making sure every pop on the vocal is perfect, every breath. But you do finesse the life out of things, and I didn't want to make an album like that for myself. I wanted the odd out-of-tune moment, the odd flaw.
Does writing for other artists afford you the luxury of spreading your wings when you make solo records?
Yes, because I get the "uber-pop" tendencies out! I like writing for other people, it's fun. I get to inhabit somebody else's persona for a day. It's like dressing up musically - and pulling out things I would never have the guts to wear normally.
Finally, who's taller - you or Kylie?
I'm definitely taller... and I'm quite short as it is! But she's luminous and lovely.
Nerina Pallot's album, Year Of The Wolf, is out on 13 June on Geffen. The single, Put Your Hands Up, is available now.