Scorsese 'to direct Taylor and Burton biopic'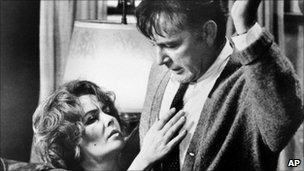 Director Martin Scorsese is set to direct a film based on the tempestuous relationship between Elizabeth Taylor and Richard Burton, reports say.
The couple married and divorced twice over a 13-year period, after meeting on the set of Cleopatra in 1963.
Paramount Pictures are said to be in negotiation with Scorsese, after buying the rights to the book Furious Love.
Released in 2010, the book received little interest from studios until Taylor's death earlier this year.
The Hollywood couple, both British, appeared in 11 films together, including the 1966 film Who's Afraid of Virginia Woolf?, for which Taylor won the second of two best actress Oscars.
Furious Love authors Sam Kashner and Nancy Schoenberger were given access to love letters between the pair by Taylor, before her death.
Actress Natalie Portman was among those said to be interested in the book rights, ahead of the Paramount deal.
Taylor died in March at the age of 79. Burton died in 1984.
Related Internet Links
The BBC is not responsible for the content of external sites.