Plea put out for 'lost' TV shows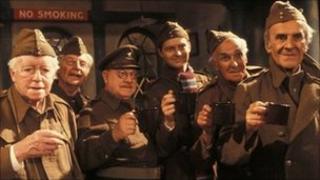 A group devoted to the appreciation of vintage television is calling on TV watchers to search their attics for recordings of programmes feared lost.
Episodes of Doctor Who, Dad's Army and The Likely Lads are among those of which no known copies exist.
"Many people recorded shows off the TV and radio as far back as the 1950s," said Chris Perry of Kaleidoscope, organisers of the Lost Shows appeal.
"The purpose of the appeal is to uncover those domestic recordings."
The BBC Sound Archive and the British Library Sound Archive are among those backing the campaign.
The appeal will be launched on Saturday at a Kaleidoscope event in Stourbridge, West Midlands.
Four missing episodes of 1950s sci-fi drama The Quatermass Experiment are among the most sought-after shows.
Four Dennis Potter dramas from the '60s are also missing believed to be wiped by broadcaster, as is most of the first series of The Avengers.