X-Men: First Class tops US box office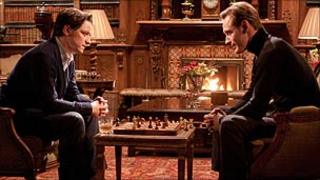 X-Men: First Class, the fifth film in the comic book franchise, has topped the North American box office in its opening weekend, taking $56m (£34.1m).
The prequel stars James McAvoy and Michael Fassbender as Professor X and Magneto in roles previously played by Patrick Stewart and Ian McKellen.
Debuts for the last three films ranged from $85.1m-$102.8m (£51.8m-£62.5m).
But distributor News Corp said a "new chapter" of the franchise had been "successfully launched".
X-Men: First Class, which also stars Jennifer Lawrence, Kevin Bacon and Mad Men actress January Jones, deals with the formative years of its main characters.
McAvoy recently spoke to the BBC News website about taking on the role of Professor X made famous by Sir Patrick Stewart, saying there was "no point playing him the same way in a different suit".
"It was important that we started at a different place while still taking cues from his performance," he added.
The release of the X-Men film pushed each of last week's top five movies down a place.
The Hangover: Part II - at number two - took $32.4m (£19.7m) in its second weekend.
King Fu Panda 2, in third, took $24.3m (£14.8m) and, at number four, Pirates of the Caribbean: On Stranger Tides, took $18m (£11m).
The only non-sequel in the top five, Bridesmaids, took $12.1m (£7.4m).