What now for Scotland's newspapers?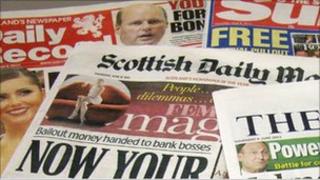 This round-up of today's main media stories includes heated debate in Scotland over journalists' job cuts at the Daily Record and Sunday Mail.
Proposed cuts to the number of journalists at the Daily Record and Sunday Mail newspapers were raised in the Scottish Parliament yesterday, at First Minister's Questions. Responding, Alex Salmond urged all parties to work together to ensure that the Daily Record and Sunday Mail were given every support available. All Media Scotland reports that on Wednesday, it was announced that some 90 editorial posts at the papers have been earmarked for redundancy, over a third of the total.
Rona MacKay says in News Net Scotland the Daily Record job losses are "a hammer blow to Scottish journalism. For the past decade, the paper's English owners have been chipping away at this once proud newspaper, which has until relatively recently been Scotland's best-selling daily newspaper. Its employees have no control of its Labour-supporting allegiance. They are the pawns in a brutal game of profits before credibility, led by a management who care not a jot for Scottish culture or society... an ignorant bunch of number crunchers who don't give a toss about producing a quality Scottish newspaper."
In the Guardian Roy Greenslade agrees that the Record has lost its way, "in concert with all the red-tops in Britain". But he says Scottish journalists, MPs and MSPs are talking hot air in calling for a Scottish buyer to save them from "an uncaring multi-national". He says Trinity Mirror's willingness to continue publishing the Record and Mail "could be viewed as an act of charity... a sort of social welfare service for journalists."
Two former Cabinet ministers have demanded the Metropolitan Police tell them whether they were targeted by private investigator Jonathan Rees, says the Independent. Jack Straw and Peter Mandelson contacted police after the paper revealed they may have fallen victim to Rees, who worked for the News of the World and Mirror Group titles.
The Guardian reports the culture secretary, Jeremy Hunt, and the justice secretary, Ken Clarke, have asked parliament to examine whether the law and the courts have established an appropriate balance between the rights to privacy and freedom of expression in the wake of the celebrity injunction crisis. They have agreed terms of reference for the inquiry by a committee of MPs and peers.
Tonight, Gardeners' World on BBC2, presented by Monty Don, does battle with Alan Titchmarsh's new ITV1 show, Love Your Garden. Vicky Frost says in the Guardian "viewers are spared an X-Factor/Strictly scheduling clash, with Titchmarsh's offering airing in a half-hour slot before Gardeners' World from 8pm. But they are still likely to be watching to see who comes off best for advice, inspiration - and ratings."
The question of whether the Archbishop of Canterbury was right to criticise the government in a magazine article divides Friday's papers, as reported in the BBC's newspaper review.