Harold Pinter's Betrayal gains faith of critics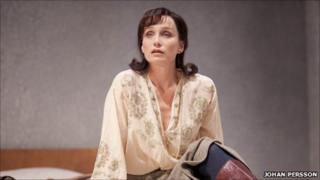 Kristin Scott Thomas has received warm reviews for her "glacial" performance in marital infidelity drama Betrayal which has opened in London's West End.
Ian Rickson's new production of Harold Pinter's 1978 play co-stars Douglas Henshall and Ben Miles at the Comedy Theatre. The play follows the course of an affair backwards in time over nine years.
Scott Thomas was last seen on the London stage in Rickson's The Seagull at the Royal Court.
She won the 2008 Laurence Olivier Award for best actress and reprised the role on Broadway.
Rickson most recently directed The Children's Hour at the Comedy Theatre, as well as Jerusalem, starring Tony Award winner Mark Rylance, which is currently on Broadway.
Giving the play five stars in his Daily Telegraph review, Charles Spencer said it was the finest production he had seen of Pinter's "masterpiece".
He said: "Watching Ian Rickson's superb new production, with a radiant Kristin Scott Thomas at the apex of the romantic triangle that also contains her husband Robert (Ben Miles) and her lover Jerry (Douglas Henshall) I found myself marvelling once again at the sheer bravura of Pinter's play."
In The Independent's four-star review, Paul Taylor said Scott Thomas gave a performance of "exquisitely nuanced emotional vulnerability and pain".
He added: "What this revival establishes with matchless force is the controlling dominance of the husband Robert, played with a toying sadism by the excellent Ben Miles, whose leather jacket, dark sideburns and air of the mannered, intellectual bruiser keep putting you in mind of Pinter himself."
In his four-star Guardian review, Michael Billington said the play's themes of pain and loss were "explored with poetic precision".
"In the poignant scene where Emma and Jerry part in the Kilburn flat that has been their secret love-nest, there is a cold sadness to Kristin Scott Thomas as Emma, and a defeated solitude to Douglas Henshall as Jerry.
Michael Coveney gave Betrayal three stars in his What's On Stage review.
"Ian Rickson's production is very good," he wrote, "but Jeremy Herbert's neutral grey design, with splashes of colour for Venice, and a stained glass window in the pub, is not sufficiently clean or clinical.
"And the performance of Kristin Scott Thomas as Emma, while suitably glacial and enigmatic, with an odd vocal wobbliness, is not as serene or enchanting as Dervla Kirwan's at the Donmar four years ago."
Fisun Guner, for The Arts Desk, said: "I have never seen a production of the play quite as liable to bring a lump to the throat."
Scott Thomas brought "a brittle vulnerability and, by turns, a steely self-possession" to the role of Emma.
However, Quentin Letts in the Daily Mail considered Scott Thomas "too old" for the role.
"This elegant actress has undeniable stage presence. There is a composure about her, a stillness, an allure almost catlike," he wrote.
"But how does this fit in with Emma, who starts the play aged 38 and (thanks to the reverse chronology) ends it at 29?
"Miss Scott Thomas's poised silences suggest a middle-aged shrewdness rather than the confusion Emma would surely feel about the turns her life takes."
Betrayal is on at the Comedy Theatre until 20 August.