Bismarck book up for Samuel Johnson prize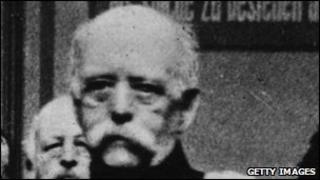 A biography about the artist Caravaggio and the story how Bismarck created modern Germany are shortlisted for the Samuel Johnson non-fiction prize.
Art critic Andrew Graham Dixon's Caravaggio and Jonathan Steinberg's Bismarck: A Life will compete with four other non-fiction books for the award.
The winner, who will win £20,000, will be announced in London on 6 July.
Frank Dikotter's Mao's Great Famine, about the China's disastrous Great Leap Forward policy, is also in the running.
The other works on the list include Liberty's Exiles: The Loss of America and the Remaking of the British Empire, by Maya Jasanoff, examines what happened to the 60,000 American loyalists who left the US following independence.
Matt Ridley's The Rational Optimist: How Prosperity Evolves and Reprobates: The Cavaliers of the English Civil War by John Stubbs, complete the shortlist.
Times journalist Ben Macintyre, chairman of the judges, said: "Even before we begin our final deliberations, while one of these great books certainly deserves to win, five do not deserve to lose."
Previous winners include The Third Reich: A New History by Michael Burleigh and 1599: A Year in the Life of William Shakespeare, by James Shapiro.
The prize is now in its 13th year.
Non-fiction books must be published in English by writers of any nationality between 1 May 2010 and 30 April 2011 to be eligible for this year's award.
A special edition of BBC Two's the Culture Show will feature coverage of this year's shortlisted books.
The programme will be broadcast on 7 July at 1900 BST.