Spider-Man: Turn Off The Dark musical finally opens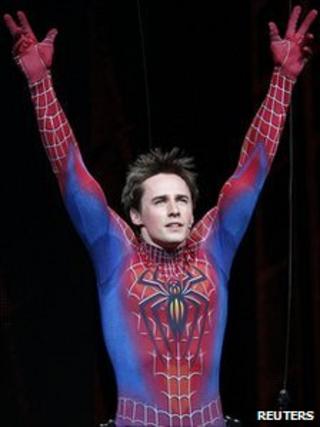 Troubled Broadway musical Spider-Man: Turn Off The Dark has officially opened to mostly harsh reviews.
Although critics agreed the latest reworked version was clearer, most blasted the show.
The Hollywood Reporter called the show a "bloated monster" while The New York Times branded it "a bore".
The musical had been delayed six times after being plagued with technical hitches and injuries to the cast since it first began previewing in November.
The Hollywood Reporter's David Rooney said mostly "cosmetic improvements" had been made to "this significantly overhauled but still terminally clunky reworking".
"In terms of narrative clarity and character definition, the show is sharper.
"But while the emergency surgical team has injected fanboy humor and self-conscious acknowledgements of the production's rocky gestation, they have not located a heart in this bloated monster," he wrote.
Ben Brantley from the New York Times echoed the sentiment, adding the show had gone "from jaw-dropping badness to mere mediocrity".
The Washington Post's Peter Marks admitted that while the new show was "a definite upgrade" to its previous version, "this effects-driven musical is still situated a wide canyon's distance from good".
While Entertainment Weekly blasted the score, composed by U2's Bono and The Edge "a mostly lacklustre collection of forgettable tunes that play like B-sides".
"The lyrics are a consistently baffling, mumble-mouthed mush... they sit there, advancing neither character nor story," it said.
However, critics generally praised performances from lead actors Reeve Carney, Jennifer Damiano who plays Mary Jane and Patrick Page as the Green Goblin.
Rooney said Carney and Damiano's voices "blend well" while The Telegraph's Charles Spencer noted their "confident performances".
The Associated Press summed up its opinion by saying: "It may not be the best thing in theater, but it is far from the worst show in Broadway history."
Despite its negative publicity since first opening in preview, the $70m (£43m) show has been selling out at New York's 1,928-seat Foxwoods Theatre.
Among the celebrities on hand for opening night were former President Bill Clinton and daughter Chelsea, actors Matt Damon, Steve Martin and Liam Neeson, rapper Jay-Z, director Spike Lee, Lord Lloyd Webber and former tennis player John McEnroe.