'Money being wasted' on BBC Radio, says report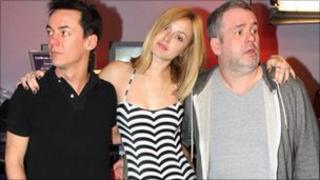 This round-up of today's main media stories includes a report on how BBC Radio 1 and Radio 2 could cut costs.
BBC Radio 1 and Radio 2 should consider introducing a combined management structure and operations, a report has recommended, says the Guardian. The review of the workings of the two stations said money was being wasted on studio managers to operate basic equipment that DJs normally operate themselves. It criticised Radio 2 for employing newsreaders who read a brief hourly news update but did "little else until the next hour's bulletin". The report, by former commercial radio executive John Myers, was commissioned by the BBC's director of audio and music, Tim Davie. Davie has ruled out having a single controller for Radio 1 and Radio 2.
A report into cost-efficiency across the BBC's pop music stations has criticised Radio 2 for having studio managers "on practically every programme", says the Daily Telegraph. While younger DJs on Radio 1 look after their own programmes, Radio 2's star names have managers to do the technical stuff for them. "At Radio 2, studio managers may sometimes be used as a comfort blanket," said the report's author, John Myers, chief executive of the Radio Academy.
A juror, who contacted a defendant via Facebook, has admitted contempt of court in the first case of its kind in the UK involving the internet, reports BBC News. Because other defendants were still on trial, the judge decided to discharge the jury, and the case collapsed.
The boss of Channel 4 has refused to apologise for airing a sick joke about Katie Price's disabled son, says the Daily Mail. At a heated parliamentary hearing yesterday, David Abraham was condemned for the decision to broadcast the joke by Scottish comedian Frankie Boyle. But although he was repeatedly asked to apologise, he did not. At yesterday's Culture Media and Sport Committee, the row escalated as Tory MP Louise Bagshawe repeated the joke to hammer home her point.
There is rubbish on the front pages of the Daily Express and the Daily Mail - neither of which are very happy about it - as reported in the BBC newspapers review.