Spider-Man audiences finally have their say on the show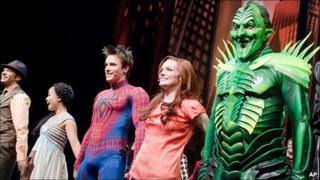 After months of delays, Spider-Man: Turn Off The Dark has finally opened in New York bringing to an end one of the most publicised and tortuous preview periods of any show in Broadway history.
With a record breaking estimated price tag of $70m (£43m), the show has been plagued by actor injuries, numerous technical glitches and several opening-night postponements.
It has now been revamped and U2's Bono, who co-wrote the show's music and lyrics with guitarist The Edge, is confident of the musical's success.
"I'm absolutely sure this is a hit," the singer says.
"What we know from people coming out the door every night is that it's a hit. It's hit them in the heart."
One of the biggest names in the audience was former President Bill Clinton, who was effusive in his praise: "I thought it was wonderful. I love the singing. I love the acting. I love the sets. I love the choreography."
Although some reviewers have warmed to the retooled show, America's most influential theatre critic, Ben Brantley, is still not impressed.
Writing in the New York Times he says the musical has moved from "jaw-dropping badness to mere mediocrity."
But The Edge insists Spider-Man is still a work in progress.
"Shows are never finished. What we're doing now, is we're tweaking it so it's the best it can be. It's a show that we're really proud of. It's come together," he explains.
Some think the project was jinxed right from the very beginning. In 2005, the original producer Tony Adams suffered a stroke and died.
"Since then, chaos ensued, and that's where all our problems came from. It's taken years to really recover from that but we're here now," Bono admits.
The production is certainly one of the most ambitious ever mounted on Broadway. It's a hybrid endeavour that's been described as a "rock and roll circus drama."
The musical boasts several elaborate aerial stunts in which Spider-Man flies around the auditorium suspended by wires above the heads of the audience.
At one point he engages in a daring mid-air battle with his nemesis The Green Goblin.
The five injured actors were not the only casualties of the show either.
Earlier this year, original director - Tony-award-winning Julie Taymor, was jettisoned from the production after the musical received some stinging reviews.
'Extremely expensive'
Long-time New York theatre producer Tom Viertel believes the show has been the victim of its big ambitions.
"One of the things Julie Taymor needed to focus on, was whether the technology would really work. So there was a decent amount of money spent on technological workshops. It turns out to be extremely expensive," he says.
After Taymor left the production Philip William McKinley was brought in as a creative consultant to work on the show.
McKinley's credits include directing the musical The Boy From Oz - as well as circus-spectaculars.
Spider-Man was temporarily shut down in April for three weeks as McKinley got to work.
Taymor's efforts to create a more high-minded artistic endeavour appear to have been ditched.
The plot and emphasis on different characters have changed - and Bono and The Edge have reworked some of the music.
"It's simpler and a clearer story, it's not as artistically ambitious. For many, simply being able to understand the story and follow it all the way through will be an attractive proposition," Viertel says.
Despite some theatre critics viewing the show as problematic, Spider-Man could end up being a real crowd pleaser.
Audiences are responding well to the new version - with many pleasantly surprised.
During intermission at a recent performance, New Yorker Alexis Pare said, "I was expecting everyone to be falling off the wires and being all crazy, from what we've seen it's been really good."
But there has not been universal praise.
Jim Miller, who caught a recent performance, had a different assessment: "I would say on a visual level that it works. As a huge U2 fan I've been a bit under-whelmed by the music."
Theatre promoter David McElwee has his ear to the ground working outside the theatre ticket discount booth in Times Square.
"Spider-Man is still problematic. It's come together a lot more, but it's still a disappointment," he says.
"I work with all these people who have seen almost every show on Broadway, and everyone's mostly disappointed with Spider-Man."
Given its high operating costs Spider-Man will have to play to packed houses over a long period to recoup its losses.
"It's expensive to produce and it's expensive to run - they will have to have a very big success to be able to continue to move forward," Viertel says.
After Spider-Man's painstaking genesis, some are wondering if there are lessons to be learned.
"Be wary of superstar rock musicians like Bono and The Edge. Just because these guys have been successful in the rock world does not mean they're going to be successful as Broadway composers," Michael Riedel, of the New York Post, says.
"Being a Broadway composer is an entirely different thing and one of the problems with the show has been Bono and The Edge's score. They've written some new songs but I still think the score is a weak element of Spider-Man."
Bono is well aware of the criticism from New York theatre insiders.
"You do get a little bit spanked around here for doing something new and different," the musician says.
"We've come up with something innovative, songs we really believe in. If you don't like splashy shows, you're not going to like this."
Whatever happens with the show - whether it succeeds or fails - it's tumultuous journey to the stage, with all the bad publicity, does not appear to have tarnished the Spider-Man brand.
The fictional superhero still remains one of Marvel Comics' most lucrative characters and next year he will be appearing in a big Hollywood re-boot starring British actor Andrew Garfield.