Shrek musical debut defies West End blaze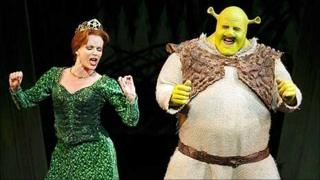 West End musical Shrek has had its official opening in London, untroubled by a nearby fire that caused a show at a neighbouring theatre to be cancelled.
Staff at the Aldwych theatre had to call off a performance of Dirty Dancing due to a blaze at Marconi House, at the junction of the Strand and Aldwych.
But Shrek went on as planned before an audience that included Dame Judi Dench.
Amanda Holden and ex-EastEnders star Nigel Harman appear in the stage version of the 2001 animated film.
Nigel Lindsay plays the titular green ogre, a role that requires 90 minutes in the make-up chair every night.
The show follows his character and a talking donkey - played by Richard Blackwood - as they rescue Holden's Princess Fiona from a fire-breathing dragon.
Comedian Michael McIntyre - who featured alongside Holden on the Britain's Got Talent judging panel - was among other celebrities who attended Tuesday's performance.
"I texted Amanda before the show to say I was bringing my buzzer," he told reporters afterwards. "But she was amazing."
Comic Frank Skinner, director Michael Winner and chat show host Graham Norton were also in the first night audience at the Theatre Royal Drury Lane.
The show began slightly later than planned due to road closures caused by the fire, which had sent smoke across the London skyline.
At a first night party at London's Somerset House, Lindsay told Radio 1 Newsbeat it had been "a really solid show".
"They were a tough crowd but they warmed up," he said of the celebrity-packed audience. "By the end they were dancing in the aisles."
"To be honest I'm relieved because we've been previewing for [what] feels like years," said Holden, whose five-year-old daughter Lexi was also in attendance.
"Now it means that I don't have to come to work until five o'clock every day and I can do the school run both ends."
Harman's portrayal of diminutive villain Farquaad - a role he largely performs on his knees - proved highly popular on Tuesday.
"I just shuffle around and go for it," said the actor, whose EastEnders character Dennis Rickman came to a sticky end in 2005.
"It's difficult to be low-key when you're on your knees."