Lady Gaga meat dress to be exhibited in US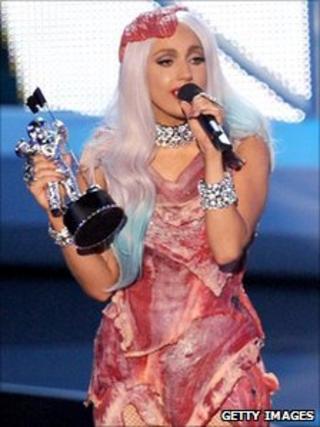 US pop star Lady Gaga's iconic meat dress is to be displayed for members of the public at the Rock and Roll Hall of Fame, it has been announced.
The singer wore the outfit, made out of layers of Argentinian beef, at the MTV Video Music Awards last year.
The hand-sewn dress was kept in a meat locker, placed in a vat of chemicals and dried out by taxidermists before being transported to the museum.
The garment was then painted to restore its original colour.
Hall of Fame spokeswoman Margaret Thresher said the dress began to dehydrate and took on a "dark, beef jerky" effect, which is why it was painted to give it a "fresh" look.
Gaga wore the outfit, which was designed by Franc Fernandez and Nichola Formichetti, during her acceptance for best video of the year, for Bad Romance.
Gaga later told US talk show host Ellen DeGeneres that the dress had "many interpretations".
She said: "If we don't stand up for what we believe in, and if we don't fight for our rights, pretty soon we're going to have as much rights as the meat on our own bones. And, I am not a piece of meat."
The dress is being displayed as part of the Women Who Rock: Vision, Passion, Power exhibition, which runs until February 2012.
Photos of Lady Gaga, sheet music and another outfit of the singer's will also be displayed.