Rebekah Brooks is added to phone-hacking victims' list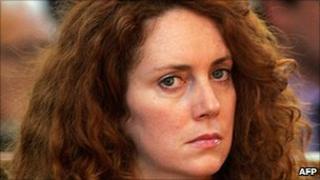 Among my picks of today's main media stories includes new developments in the police inquiry into phone-hacking at the News of the World.
Rebekah Brooks, the chief executive of News International and former editor of The Sun, has been shown evidence suggesting her phone was hacked more than 20 times by a private investigator employed by another Rupert Murdoch title, reports the Independent. It says News International has confirmed she met detectives last week from Operation Weeting to see records showing she was targeted by Glenn Mulcaire, the private detective employed by the News of the World. The revelation was made by Sky News's City editor Mark Kleinman. The Independent points out Sky News's largest shareholder is Mr Murdoch's News Corp.
Mark Kleinman suggests in his Sky News blog the hacking of Rebekah Brooks' emails could also have been carried out on behalf of one of the News of World's rivals. He says the news comes just ahead of a ruling by Jeremy Hunt, the Culture Secretary, on whether News Corporation, which owns News International, is allowed to pursue an offer for the majority stake in BSkyB that it does not currently own.
Ryan Giggs is the latest celebrity to begin legal proceedings against the News of the World and private investigator Glenn Mulcaire over phone hacking, reports the Guardian. The Manchester United footballer is suing the paper's publisher News Group Newspapers for breach of privacy, claiming his mobile phone messages were intercepted by journalists working for the paper.
The Guardian says a summer of discontent looks to be looming at the BBC over pay, pensions and compulsory redundancies. It says news coverage could be affected after unions announced a ballot for industrial action over staff cuts, while the National Union of Journalists meets to discuss "pursuing legal avenues" with the BBC over changes to the pension scheme. A ballot over a pay offer of 2% closes on 21 June and two days later the NUJ will lobby MPs at the House of Commons over proposals to axe or merge some BBC regional TV news opt-outs.
On Radio 4's The Media Show, John Myers - who was commissioned by the BBC to review the running of Radio 1 and 2 - expressed shock at the number of journalists employed by Radio 1's Newsbeat.
Reports of planned strikes by teachers and civil servants - with the possibility of industrial action by other workers - are in all the papers, as covered in the BBC's newspapers review.