Barbara Windsor to front series on female comics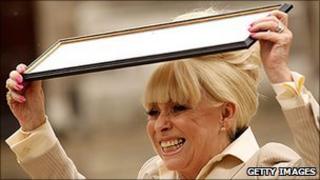 Former EastEnders and Carry On star Barbara Windsor is to front a new Radio 2 series celebrating female comics.
The six-part series will look back at the lives and careers of both British and US funnywomen, including Hattie Jacques and Lucille Ball.
The shows will also contain contributions from people who worked with each of the featured performers.
The first episode, focusing on Lancashire-born Hylda Baker, will be broadcast on 5 July at 2200 BST.
Most famous as a gossip with a silent, sullen companion named Cynthia, she was a comedy favourite for more than 40 years.
In the latter part of her career, she had a hit with a cover of You're The One That I Want from Grease, performed with Arthur Mullard.
Robert Gallacher, Radio 2's commissioning editor, said: "Over the past couple of years Radio 2 has put a spotlight on the stories of some iconic British male comics, such as Dick Emery, Dave Allen and Stanley Baxter. Now it's the turn for the ladies."
The series will be split in two with the first - entitled Barbara Windsor's Funny Girls - paying tribute to Baker, Jacques and Beryl Reid.
The second, Barbara Windsor's Funny Gals, will look at US stars Ball, Annie Get Your Gun star Betty Hutton and veteran comic Phyllis Diller - the only performer out of the six who is still alive.