Former Beatle Ringo Starr makes peace with Liverpool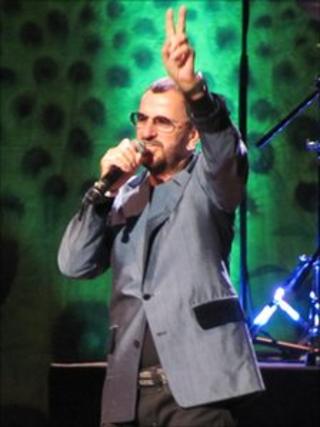 Ringo Starr has performed in Liverpool for the first time since he sparked anger three years ago by saying he did not miss his home city.
The former Beatle sought to repair relations with his fellow Liverpudlians by stressing how much he loved the city three times during Saturday's show.
He received a warm reception at the Liverpool Empire, although the 2,300-capacity venue was not sold out.
He last played Liverpool in 2008, when it was European Capital of Culture.
Shortly after that appearance, he antagonised some during an interview with Jonathan Ross on BBC One, when he said he missed nothing about the city.
At Saturday's homecoming concert, he emphatically declared: "I love Liverpool" at three points in a light-hearted attempt to bury the hatchet.
The crowd, made up of fans from around the world as well as from Liverpool, were on his side from the outset and gave him a hero's welcome.
But ticket sales showed that not everyone in the city was so enthusiastic. Three hours before the concert, the official Ticketmaster website was showing more than 350 seats still available.
Freda Kelly, who ran the Beatles fan club for a decade from 1962, said it was a "very good" show, adding that many in the crowd had travelled from overseas.
"There weren't a lot of Liverpool people here," she said. "From the people's reactions tonight, the ones that were here, they seem to have accepted what he said tonight, that he loves Liverpool. I'm sure he does."
Another fan, Christopher Hayes, 72, from Kensington, Liverpool, watched Ringo perform on the top of St George's Hall, opposite the Empire, to launch the Capital of Culture year in January 2008.
"I heard his comments afterwards - they didn't go down very well at all," he explained. Of Saturday's concert, he said: "I didn't know what kind of reception he would get.
"He got a very good reception - better than we expected, really."
Historic return
Saturday's gig was the second UK leg of a European tour with the drummer's "All Starr Band", featuring a mixture of of pop and rock veterans, including Mr Mister frontman Richard Page and The McCoys singer Rick Derringer.
The set was split between Starr, who sang Beatles and solo material, and his bandmates, who performed hits from their own back catalogues.
Starr did not perform Liverpool 8, the song he wrote and recorded for the Capital of Culture celebrations, but did play The Other Side Of Liverpool, from his last album Y Not.
He dedicated that song to his 94-year-old aunt, who was on her feet with the rest of the crowd during songs like Yellow Submarine and With A Little Help From My Friends.
The Empire was the venue for The Beatles' last live show in Liverpool, in December 1965.