Barry Humphries joins Hobbit cast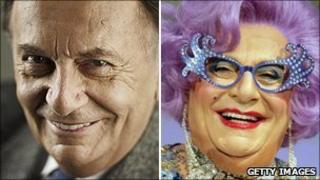 Australian-born comedian Barry Humphries, who is best known for his alter ego Dame Edna Everage, is to join the cast of The Hobbit.
Director Peter Jackson said on Facebook he was "highly excited" the 77-year-old would be playing the evil Goblin King.
He added the character would be created using motion capture technology, as Gollum was created for his Oscar-winning Lord of the Rings trilogy.
The first of Jackson's two Hobbit films is due to be released in December 2012.
"Barry is perhaps best known for his business and social connections as the long-time manager of Dame Edna Everage," Jackson said.
"However, in his spare time, Barry is also a fine actor, and we're looking forward to seeing him invest the Goblin King with the delicate sensitivity and emotional depth this character deserves."
Jackson also announced that former Lost actress Evangeline Lilly has joined the cast as a new character - Tauriel, the Woodland Elf.
"Evangeline and Barry, along with Welsh actor Luke Evans as Bard and Benedict Cumberbatch as Smaug, just about rounds out the major casting. I cannot wait to get stuck into these new scenes!" the director said.
Actors reprising their Lord of the Rings roles include Sir Ian McKellen and Elijah Wood, who return as Gandalf and Frodo respectively.
Cate Blanchett, Orlando Bloom, Sir Christopher Lee and Andy Serkis will all also return.
Martin Freeman takes on the central role of Bilbo Baggins, who is swept into an epic quest to reclaim the lost Dwarf Kingdom of Erebor from the fearsome dragon Smaug.