Sir Peter Maxwell Davies says fine phone users at shows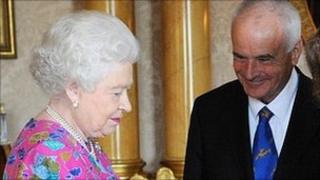 Sir Peter Maxwell Davies, Master of the Queen's Music, has called for people who use mobile phones during performances to be fined.
"I would just love to see something where people would be fined... and that the money went to the Musicians' Benevolent Fund," he told the BBC.
Sir Peter said he was "really upset" when two concerts he attended recently were interrupted by phones ringing.
"It's becoming such a plague that one has to say something," he said.
Sir Peter's post is the musical equivalent of the Poet Laureate.
A spokesman for the Royal Household said Sir Peter's comments were his own personal views.
Since his appointment, Sir Peter has composed a Christmas carol for The Queen which was recorded by the Chapels Royal, as well as a work to accompany the Poet Laureate's poem to mark The Queen's 80th birthday in 2006.
Sir Peter said he was prompted to speak out after a London Sinfonietta concert and a piano recital by Alessandro Taverna, both in Orkney where the composer is based, were interrupted by ringing mobiles.
"It's very distracting and very unfair on the audience and the players particularly," he said.
It is not the first time a famous face has complained about the issue.
Actor Richard Griffiths ordered a woman out of his West End play in 2005 after her mobile phone rang for a third time.
The performance of Heroes at Wyndham's theatre was nearing the end when Griffiths asked her: "Is that it, or will it be ringing some more?"
The audience clapped as he asked her to leave a matinee performance.
In 2004, Griffiths ordered a man out of the National Theatre when his phone went off for the sixth time during a performance of The History Boys.
In the same year, Kevin Spacey attacked audiences who allowed their mobile phones to ring during a theatre performance, saying visitors should learn to behave.
As artistic director of London's Old Vic theatre he said he personally issues a warning to his audiences to switch off their phones and also asks them not to eat sweets.
He told BBC Radio 4's Front Row programme that people who refused to comply "shouldn't come" to the theatre.