Carnegie winner Patrick Ness attacks library cuts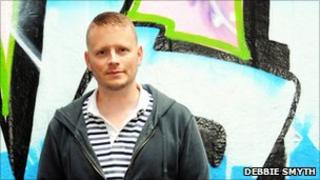 Author Patrick Ness has criticised Education Secretary Michael Gove over library closures as he accepted a prestigious children's fiction prize.
Ness was awarded the Cilip Carnegie Medal for his novel Monsters of Men at a ceremony in London.
"We must accept that it is not only libraries that are under threat, but librarians as well," Ness said.
The prize is awarded by children's librarians for an outstanding book for young people.
Ness's winning novel is the third and final book of the Chaos Walking trilogy about the power struggles on a planet where private thoughts are audible.
The US-born author described decisions to partially staff libraries with volunteers as "a one-sentence, Big Society idea whose consequences and ramifications they haven't even remotely considered".
Talking about Mr Gove, Ness said: "Here is a man who races to the latest news about what a tragedy it is that three out of every 10 children don't own a book.
"Yet completely fails to see the irony of how closing libraries will affect not only the three who don't, but the seven who do and who want to read more and more and more."
He told the audience of librarians and publishers at the British Academy of Film and Television Arts that knowledge was useless "if you don't know how to find it".
Librarians were "tour-guides for all of knowledge", he said.
"How much more can you discover when someone can point you in the right direction, when someone can maybe give you a map. When someone can give you a treasure map that takes you to places that you didn't even think you were allowed to go. To me this is what librarians do."
A Department for Education spokesman said: "Michael Gove is passionate about the importance of reading.
"Far too many children still cannot read to expected levels from an early age - that's why our reforms are designed to identify and target support at pupils who need the most support.
"No-one wants to see libraries closed, so local authorities should think very, very carefully about shutting services which are loved locally.
"The leading councils are finding innovative and creative ways of keeping libraries affordable and open. Councillors have complete freedom over their budget, are elected by and accountable to their local communities - ultimately they must front up for their own decisions."
'Stay human'
In Monsters of Men, Ness explores the "ambiguity and messiness of war". The roots of the book go back to when Ness saw the film All Quiet on the Western Front as a boy.
"I was probably 14, and I was halfway through the film before I really clocked the incredible fact that it's about German soldiers. Not British ones, not American ones, but Germans. The so-called 'enemy'.
"And it was a revelation about what bothers me the most about war, the worst thing we do in war, which is that we dehumanise our enemies, because that makes them easier to kill. But they stay human, no matter how much we want them not to."
Ness has lived in the UK since 1999. Born on an army base in Virginia, he spent his early years in Hawaii, before moving with his family to Washington state when he was six.
The Knife of Never Letting Go - the first of the Chaos Walking Trilogy - was his first novel for young people, written while he was teaching creative writing at Kellogg College, Oxford.
That novel and its sequel The Ask and the Answer were shortlisted for the Carnegie Medal in 2009 and 2010.
Ness's most recent novel is A Monster Calls, based on an idea by the late Siobhan Dowd - whose novel Bog Child won the Carnegie medal in 2009.
The prize was set up in 1936 in memory of Scottish-born philanthropist Andrew Carnegie and was first awarded to Swallows And Amazons author Arthur Ransome for Pigeon Post.
Other previous winners include Philip Pullman, Anne Fine, Terry Pratchett and CS Lewis.
Last year the medal was won by fantasy author Neil Gaiman for The Graveyard Book.