Harold Pinter Playwright Award won by Anders Lusgarten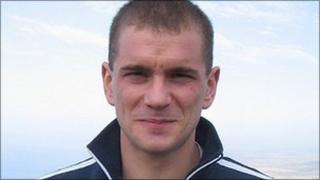 Anders Lustgarten has been named the first recipient of the Royal Court's Harold Pinter Playwright's Award.
The writer's debut play, A Day at the Racists, opened at London's Finborough Theatre last year.
The Royal Court's artistic director Dominic Cooke said Lustgarten was a "talented young writer with a fierce political engagement."
Pinter's widow Lady Antonia Fraser donates the annual prize which supports a new commission at the Royal Court.
Mr Cooke said the award allows the theatre to "continue our commitment to new writing and pay tribute to Harold's important contribution to the Royal Court".
Lustgarten's A Day at the Racists examined the workings of the British National Party.
The writer has previously completed attachments with Soho Theatre and the National Theatre
He was also recently named the winner of the Catherine Johnson Award for the best play.
The existing Pinter literary prize was set up in 2009 after the playwright's death, with the most recent winner being writer Hanif Kureishi.