Anjali Joseph named winner of Desmond Elliott prize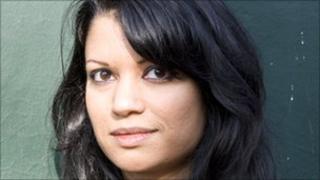 Debut novelist Anjali Joseph has been named the winner of the Desmond Elliott Prize for her work Saraswati Park.
The critically acclaimed novel, set in the suburbs of Mumbai, is about a married couple and their teenage nephew who comes to live with them.
Now in its fourth year, the £10,000 prize is awarded to the writer of the best debut novel.
Chair of judges Edward Stourton said the panel all found Ms Joseph's book "absorbing and faultlessly written".
Journalist Fanny Blake and Amazon's Amy Worth were also part of the judging panel.
"We were united in our admiration for Saraswati Park," BBC Radio 4's Stourton said.
"The characters are beautifully rendered, and their lives, with their ambitions and regrets, stay with you long after you have closed the last page. Anjali Joseph's skills as a novelist are humbling."
Joseph has received positive reviews from critics, with The Daily Telegraph selecting her as one of its top 20 novelists under 40.
Once a commissioning editor of Elle magazine's Indian edition, she beat Ned Beauman and Stephen Kelman to the prestigious prize.
The prize, which organisers said is about finding a novel that offers a "depth and breadth with a compelling narrative", was established in honour publisher and literary agent Desmond Elliott, who died in 2003.
Last year's prize went to Ali Shaw, a former bookseller from Dorset who spent almost five years writing his debut novel, The Girl with Glass Feet.