Madrid gets its own Walk of Fame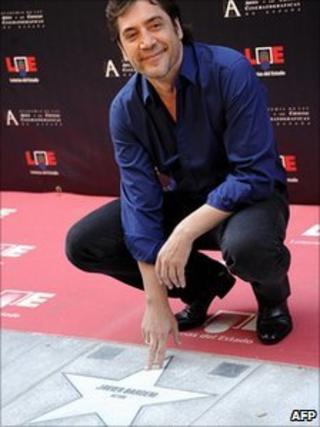 Penelope Cruz and Javier Bardem have been honoured on Madrid's version of the Hollywood Wall of Fame.
The husband and wife actors were among 25 Spanish cinema personalities to receive a plaque on the Street Of Stars (La Calle De Las Estrellas).
Actor Antonio Banderas and director Pedro Almodovar were also at the inauguration ceremony on Monday.
The Street of Stars was created to mark the Spanish Film Academy's 25th anniversary.
Director Alejandro Amenabar thanked the academy and Madrid's city council for installing the new attraction in Calle Martín de los Heros, the central Madrid street that is home to several cinemas.
"This is an area that brings me great memories, I signed my first autograph here," he added.
Like its Hollywood counterpart, the granite, marble and steel plaques feature a large star and the celebrity's name.
Sixteen actors and nine directors have been initially honoured, but the academy said it plans to add one or two plaques each year.
It is the second star for Cruz this year - in April, she received the 2,436th star in Hollywood, becoming the first Spanish actress to receive the honour.