Prince performs first UK festival at Hop Farm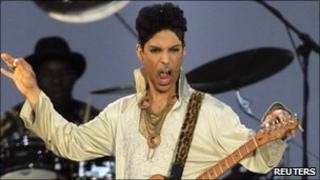 Prince has played his first UK festival, with a two-and-a-quarter-hour set at the Hop Farm Festival.
Playing to 30,000 fans in rural Kent, he stormed through hits like Purple Rain, U Got The Look, 1999 and Kiss.
The 53-year-old star came back for three encores in what was his first open air gig in England since 1993, despite years of Glastonbury rumours.
"I wish there wasn't no such thing as a curfew. Parties are supposed to go on 'til everyone's asleep," he announced.
Instrumental jams
The Minneapolis musician does not have a strong association with agricultural life - unless you count the time he took a girl in a raspberry beret "down by Old Man Johnson's Farm".
Appropriately, Raspberry Beret got a brief airing on Sunday night, in one of several medleys that took their cue from his Vegas-style shows at the O2 four years ago.
But other aspects of the gig felt more like his infamous "aftershow" parties, with extended instrumental jams featuring an athletic seven-piece band.
The show even opened with a five-minute funk workout - a lightly-borne necessity, as Prince and his band endeavoured to set their sound levels after previous acts, including Tinie Tempah and Larry Graham, suffered from distorted bass and indistinct mixing.
It was a fascinating insight to how the fastidious musician organises his live band - calling on instruments to drop in and out, while issuing instructions to off-stage technicians and sound engineers.
Freakishly nimble
All the while, he was mindful of the audience - extolling them to chant "soundcheck" as the work continued.
With the formalities finally out of the way, a clap of thunder echoed around the park and Prince launched into Let's Go Crazy, swiftly followed by Delirious, setting the tone for an upbeat, hit-fuelled set.
Highlights included a steamy, blues-infused run-through of Little Red Corvette, and the coda of Kiss, during which the musician turned his back to the audience and performed a cheeky, rump-shaking dance.
Unlike many of his contemporaries, Prince seems untouched by age.
His falsetto still soars to the high-notes - in stark contrast to Bono and Paul Simon's fractured vocals at Glastonbury last week.
And he remains freakishly nimble, sprinting from one side of the stage to the other, dressed all the while in towering designer heels.
Indeed, his only concession to advancing years was the absence of his once-trademark splits.
Piano dance
His sense of humour is undiminished, however...
A glitzy rendition of Nothing Compares 2U elicited huge cheers - until Prince slyly announced, "I didn't write that song. That's Sinead O'Connor's song [O'Connor made the song famous, after Prince donated it to one of his ill-fated 1980s side projects, The Family]."
As applause turned to boos, a grin spread across the artist's face.
"Aww, come on," he protested. "I bought me a house with that song."
The night ended with Prince dancing on top of his purple baby grand piano to 1987's If I Was Your Girlfriend, which segued into a triumphant, accelerated version of Baby, I'm A Star.
"It was amazing," said David Moore, from Oxford, who had just seen his first ever Prince concert.
"The guitar solo in Purple Rain took my breath away."
"I cried. It was life-changing," said Sophie Colbert from Brighton.
"A beautiful performance from a seasoned professional."
Prince now goes on to play a number of festivals across Europe, including Belgium's Sint-Puetersplein on Tuesday and Ireland's Malahide Castle on 30 July.