Michael Portillo to head up £55m arts fund scheme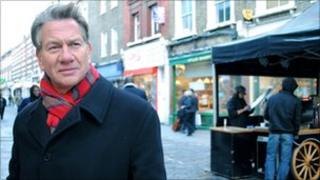 Michael Portillo is to chair a £55m scheme to help arts organisations develop long-term funding plans.
About 50 organisations are expected to benefit from the grants, which will start at £500,000.
Groups will be able to bid for grants of up to £5m, but will be expected to raise double that amount through the private sector.
The Heritage Lottery Fund, Arts Council England and the Department for Culture, Media and Sport will fund the scheme.
The money will be available to arts organisations across the UK, and it is hoped applications can begin to be submitted in early September.
The £55 million is part of a £100 million pledge to support philanthropy.
The funds will be given as an endowment, with the interest used to pay the groups' running costs.
'Disproportionate cuts'
Culture Secretary Jeremy Hunt, who announced the plans during a speech at the Whitechapel Art Gallery in London, said: "World class cultural organisations should have world class financial resilience.
"Michael Portillo is passionate about culture and will bring real wisdom to a process that will start a much-needed change in our approach to cultural fundraising."
Alan Davey, Chief Executive of Arts Council England, said: "Arts and heritage endowments will provide a range of opportunities for arts and cultural organisations to build their skills and capacity to fundraise, to match-fund using new ideas and to invest for their long-term health and creativity."
In December 2010, Mr Hunt announced an £80 million fund to help increase philanthropy. This was made up of £50 million from Arts Council England and £30 million from the Department for Culture, Media and Sport (DCMS).
Mr Hunt announced on Monday that this would be boosted by an additional £20 million Heritage Lottery Fund contribution.
Shadow Culture Secretary Ivan Lewis, said: "The test of its success will be whether public funding triggers new private giving, which would not otherwise have been raised, and supports arts organisations which currently receive little or no philanthropic support to develop this source of funding.
"By Mr Hunt's own admission, this fund will do nothing to help organisations currently scaling down activities and struggling to survive as a result of the Conservative-led government's disproportionate cuts to the arts."