Dame Judi Dench given Japanese arts award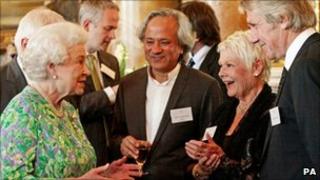 Veteran actress Dame Judi Dench said she felt "overwhelmed" to accept one of the art world's most valuable awards.
The Oscar-winning-star was named one of five new Praemium Imperiale Laureates, along with British sculptor Anish Kapoor.
The announcement was made during a Japanese-sponsored arts ceremony in London.
The award, worth 15 million yen (£115,000), will be formally presented at a ceremony in Tokyo in October.
'Popular and beloved'
"I feel overwhelmed. I've been to Japan twice with the RSC [Royal Shakespeare Company] and I made a lot of really good friends," Dame Judi said.
The star, who has had a successful and varied career in film and on stage, said: "I call myself a theatre actor. The greatest body of my work is in the the theatre and the theatre is the thing I really love the best."
She also plays spy boss M in the James Bond films.
BBC Trust chairman Lord Patten, who is the UK adviser for the prize, said Dame Judi was "one of Britain's greatest actors and certainly most popular and beloved actors".
He added: "It's a tremendous honour for Britain, Anish Kapoor and Judi Dench.
"It's hugely important given the contribution Britain makes to the arts and I think people will really see the vibrancy of the UK in cultural terms."
US artist Bill Viola, Mexican architect Ricardo Legoretta and Japanese conductor Seiji Ozawa were also named as laureates.
The Queen later congratulated the recipients of the award at a reception at Buckingham Palace.
Kapoor, 57, said he had talked to the Queen "about making things and sculpture and the Olympic project that I'm involved in".
Previous winners include David Hockney and Richard Attenborough.