Young poets discover their voices
By Ian Youngs
Arts reporter, BBC News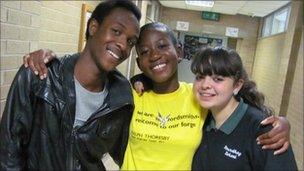 A group of teenage poets from Leeds, winners of the national youth poetry slam championship last year, have become the subjects of an award-winning documentary.
Poetry is dull, dusty, dead, right? That might be the impression in a lot of classrooms.
But try telling that to a dynamic group of teenage writers and performers for whom poetry is the new hip-hop.
Follow the sound of whooping and cheering down the corridor at City of Leeds High School, and you will come to the drama studio where a poetry slam is in full swing.
The young people taking the microphone are brimming with passion and rage as they perform poems dealing with government cuts, religion, their futures and their home lives.
David Cameron and Nick Clegg come in for some eloquent, withering put-downs over university fees and youth unemployment, to more whooping and cheering from the assembled pupils and parents.
The last poem of the night, delivered by two girls who were probably not alive during the last Conservative government, brings the house down with its last line: "Chop our choices but never cut our voices."
Anyone who thought teenagers were apathetic can think again. More to the point, anyone who thought poetry was boring can come and have a look for themselves.
The poetry slam - a performance poetry competition - was part of the Voices of a New Generation literature festival, an event staged by Leeds Young Authors.
The organisation, a writing group for teenagers, won the national youth poetry slam championship last year, beating teams from eight other regions.
They are now the subjects of the film We Are Poets, which picked up an award at the recent Sheffield Documentary Festival.
Leeds Young Authors, who have received support from Simon Armitage and Benjamin Zephaniah, are also hoping to travel to the world's biggest youth poetry slam, Brave New Voices, in San Francisco, at the end of the month.
Last time they competed at Brave New Voices, in 2009, the group came second out of 50 teams.
This year, however, they are running out of time to raise the necessary funds.
Poet Khadijah Ibrahiim, who founded the group eight years ago, says the weekly workshops allow members to "express themselves without getting themselves in trouble".
"The young people realise it's educational, it's fun, but more than anything they've gained something from it," she says. "They've gained a self-belief and self esteem.
"It gives them strength and the willpower to stand up and speak about things that are very important. Very rarely do we hear young people speaking up for themselves."
It is also a way to get young people "out of the chair, [away] from the video games [and] the TV", she adds.
Ibrahiim often goes into schools to talk about poetry and says the immediate response is: "Oh, that's boring."
But then she shows them similarities between Shakespeare and their favourite rappers. "All of a sudden Shakespeare becomes hip-hop," she says.
"What we're trying to show them is that poetry is not an outdated mode of expression. It's very current."
The articulate, emotive spoken word performances of the young poets is not far removed from hip-hop.
But in an era when urban music dominates youth culture, would it not be cooler to become a rapper rather than a poet?
"Today hip-hop to me is just a load of rubbish," says 17-year-old Jamal Gerald, a member of Leeds Young Authors.
"With poetry, you have people spin out their feelings and it's actually coming from the heart.
"But music nowadays is just 'lick my lollipop' and all that rubbish."
Leeds Young Authors is one of the few ongoing youth poetry groups in the UK and has carried on despite cuts to its funding from educational and arts bodies.
Another group, Young Identity, emerged from Manchester after forming for the inaugural national championship, dubbed the Word Cup, in 2006.
Poetry organisation Apples and Snakes, which stages the Word Cup, is now planning to expand that event for a major youth poetry slam during the London Olympics next July.
At a time when the legacy of the Olympic Games is a hot topic, Apples and Snakes hopes many more youth poetry groups will keep going across the country after taking part in its event, titled Shake The Dust.
Dr Helen Gregory, a poet and psychology lecturer who runs the Glastonbury Festival's poetry stage, has written academic papers about poetry slams.
While the quality of the poems performed by youth groups can be great, she says the real value of such initiatives goes deeper.
Speaking about a focus group at last year's Word Cup, she says: "There was a young person who self-harmed, and said: 'This has given me another outlet, another way of dealing with issues. Now if I feel awful I write a poem.'
"Certainly with Leeds Young Authors, if you look at the demographic of a lot of the young people who are involved, you wouldn't expect as many of them to be going to university as are.
"There are some quite amazing things that these programmes are capable of achieving."
A fundraising event for Leeds Young Authors will be held at Yorkshire Dance in Leeds on Friday.
Related Internet Links
The BBC is not responsible for the content of external sites.