News of the World demise sparks Sunday tabloid battle
Torin Douglas
Former media correspondent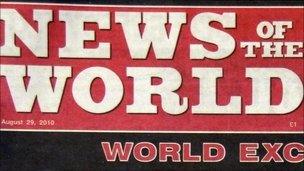 So which newspaper is going to pick up most of those homeless News of the World readers this Sunday?
An unprecedented battle is under way, as rival publishers prepare to print extra copies, cut prices and launch TV advertising campaigns, to try to win over the millions of readers who have had their Sunday paper snatched from them. The potential windfall is huge. Rarely can so many customers in any market have been abandoned by the producers of what was - until its last week - such a popular and profitable product.
The News of the World sold 2.66 million copies a week in the first half of this year, making it the UK's biggest-selling newspaper. At £1 a copy, that generated over £2.5m a week or £150m a year. Even though some of that money went to the newsagents and wholesalers it is still a large sum for any publisher to turn away.
And copy sales don't tell the whole story. Like all newspapers, each copy was read by more than one person and the News of the World's total readership - as it reminded us on its farewell front page last week - was 7.5 million.
For advertisers, that is a highly valuable audience - which is why it was so significant that many big companies decided to remove their advertisements from the News of the World after revelations emerged about Milly Dowler's phone being hacked.
All this explains why rival publishers are striving so hard to pick up those floating readers and purchasers.
Advertisers have been told that the Mail on Sunday is printing over three million copies this weekend. It normally sells just under two million. The trade paper Media Week says Richard Desmond's Daily Star on Sunday is more than tripling its print run, from 600,000 copies to 2.2 million, as well as printing extra pages and launching a new supplement, OK! Extra.
Desmond understands what a huge opportunity this is. His other Sunday title, the Sunday Express, is increasing its print run by 40% and he's also expected to launch a big advertising campaign.
The People and the Sunday Mirror, both published by Trinity Mirror, are also increasing their print runs, together adding 1.75 million extra copies. Sly Bailey, the company's chief executive, has written to advertisers and media-buying agencies alerting them to the fact that it will be cutting its cover price some regions, and launching a TV advertising campaign.
But extra copies and advertising campaigns alone won't be enough. Sunday newspapers often sell on their scoops, with readers comparing the front pages before deciding which to buy - and their back pages for the sport.
And the News of the World didn't just appeal to downmarket readers - it had more ABC1 readers than the Sunday Times and, as Peter Preston pointed out in the Observer last month, "more than the Sunday Telegraph, Observer and Independent on Sunday put together".
So which of these papers, if any, can really replace the News of the World, which invested huge sums and efforts in investigative journalism - rightly as well as wrongly? The paper won several Press Awards this year, including one for its Fabulous magazine, which survives and will now be published with the Sun on Saturdays.
Research from the influential media watcher, Enders Analysis, suggests that most News of the World purchasers won't buy another paper at all. According to the Daily Telegraph, which has seen a copy of the Enders research, the report concludes:
"In our view the single largest impact of the closure of NoW on the national Sunday newspaper market is that a substantial proportion of its loyal readership will fail to pick up an alternative newspaper, and simply fall out of the market entirely. We anticipate a decline of 1.8 million copies per week across all titles, an 'overnight' decline of 19% in the Sunday sector."
There is another reason why this gamble by rival publishers may not produce dividends . Many believe News International will still launch a Sunday version of the Sun, in print and online. This could be launched to coincide with the start of the football season, leaving other publishers very little time to win the loyalty of their new readers.