Nazi-looted Klimt to be auctioned following return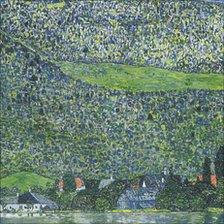 A Gustav Klimt painting, looted by the Nazis during World War II, is to go up for auction following its recent return to its original owner's great-nephew.
The 1915 artwork, entitled Litzlberg on the Attersee, is expected to fetch more than $25m (£15.5m) when it is sold at Sotheby's in New York on 2 November.
Last week the painting was returned to 83-year-old Georges Jorisch by the Museum of Modern Arts in Salzburg.
A portion of the proceeds from its sale will be donated to the museum.
According to Sotheby's expert Simon Shaw, it is a work of "stunning quality, rarity and important provenance".
The work, which depicts a lake in western Austria, originally formed part of a collection owned by the Austrian iron magnate Viktor Zuckerkandl.
When he and his wife Paula died in 1927 without children, the painting joined the collection of Amalie Redlich, Zuckerkandl's sister.
Redlich was deported in 1941 and was never heard of again. Her collection was seized by the Gestapo and sold off.
The painting, which has been part of museum collections in Salzburg since 1944, was returned to Mr Jorisch, Amalie Redlich's grandson, earlier this month.
Under a 1998 restitution law, Austria has returned thousands of paintings confiscated by the Nazis to the descendants of their former owners.
Born in Vienna in 1862, Gustav Klimt was one of Austria's most celebrated painters and a leading light of the Art Nouveau movement.
Related Internet Links
The BBC is not responsible for the content of external sites.