Bette Midler drops out of Spector film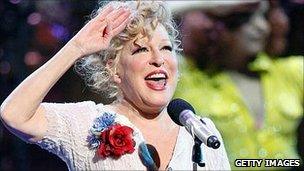 Bette Midler has dropped out of a TV film about jailed music producer Phil Spector, after suffering a herniated disc six days into production.
The actress and singer had been cast as Linda Kenney Baden, Spector's defense lawyer in his first trial for the 2003 murder of actress Lana Clarkson.
HBO said Midler had filmed for three days before bowing out on the advice of her doctor.
Her role in the film, which stars Al Pacino as Spector, will be recast.
"I am heartbroken to be forced to leave this terrific project," Midler said in a statement. "Working with David Mamet and Al Pacino was a dream of mine.
"But the pain I am in has made my participation impossible. My heartfelt thanks to everyone for their kind understanding."
Arrested Development actor Jeffrey Tambor also stars in the film as Bruce Cutler, another of Spector's defence lawyers.
The currently untitled project is scheduled to air in the US next year. Plans to screen it in the UK are as yet unconfirmed.
The production courted trouble this week after friends of Clarkson threatened to protest about the film.
They feared Spector's guilty verdict could be cast into doubt after Mamet, its writer and director, told the media: "I definitely think there is reasonable doubt [in Spector's case]."
Spector's first trial in 2007 was declared a mistrial after the jury failed to reach a verdict.
In a 2009 retrial, the music mogul was sentenced to 19 years in jail after being found guilty of second-degree murder.
Famous for creating the 'Wall of Sound' production technique, Spector is well-known for his trademark wigs and the string of hits he produced for Tina Turner and others.
Related Internet Links
The BBC is not responsible for the content of external sites.