Bucks Fizz acts await name ruling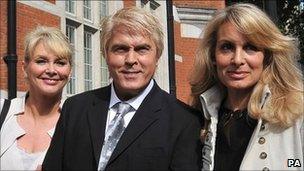 Two acts vying for the right to use the name Bucks Fizz must wait for up to six weeks to discover which has triumphed.
One, The Original Bucks Fizz, has three of the line-up that won the Eurovision Song Contest in 1981 with Making Your Mind Up. The other has just one.
But it is he who now owns the trademark of the Bucks Fizz name.
After hearing evidence from both sides, the Intellectual Property Office (IPO) said it would give a final decision in five to six weeks.
The hearing was triggered after Cheryl Baker, Mike Nolan and Jay Aston sought to trademark their band name, The Original Bucks Fizz.
Former bandmate Bobby G - real name Robert Gubby - objected to their plans, having registered Bucks Fizz as a trademark in 2001.
This led to a counter objection, by the other party - his former bandmates, against Gubby's use of Bucks Fizz.
The name Bucks Fizz was applied for in 1997 and registered to Robert Gubby in 2001, following a legal dispute.
Evidence was given on Friday at offices in London and Wales, which were connected by videolink.
Dean Dunham - acting for Baker, Nolan and Aston - told the hearing that Gubby's use of the name Bucks Fizz had led to confusion and disappointment among fans.
"The public perception of the words Bucks Fizz is simply the band that consisted of my three clients as well," said Mr Dunham.
Speaking after the hearing in London, Baker said the situation was "really sad" but insisted Gubby had "no right to stop us from working".
"We've got an album that should have been released by now and we can't because of the dispute over the name, so it's affecting our livelihood." said Baker.
From an office in Wales, Gubby - who recruited three new members for his Bucks Fizz act - said he felt entitled to claim his band was "original" because it had a "direct connection" to when Eurovision-winning version was first founded.
Bands often had line-up changes throughout the years, he added, comparing the situation to acts such as The Drifters and The Supremes.
Related Internet Links
The BBC is not responsible for the content of external sites.