BBC journalists on strike over redundancies row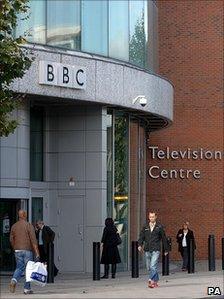 Journalists at the BBC have taken part in a 24-hour strike in a row over compulsory redundancies.
Members of the National Union of Journalists (NUJ) voted for industrial action last month because a number of World Service journalists are facing compulsory redundancy.
The NUJ said the strike had been "solidly supported". A further strike is scheduled for 29 July.
A BBC spokesman said disruption had been less than expected.
Viewers and listeners saw some changes to BBC output on Friday morning as a result of the strike.
Radio 4's Today programme began at 0700 BST - an hour later than normal.
On Radio 5 Live, meanwhile, regular Breakfast hosts Nicky Campbell and Rachel Burden were replaced by Ian Payne and Julia Bradbury.
A number of people working in the World Service and BBC Monitoring are facing compulsory redundancy this summer, the NUJ said.
General secretary Michelle Stanistreet said union representatives had "tried hard" to resolve the dispute through negotiation.
"We have even agreed to use the Acas conciliation service to try to find a way forward, but BBC senior management has shown no real interest in negotiations.
"It is hard to avoid the conclusion that BBC management wants thousands of its journalists to go on strike rather than settle the dispute.
"If that is the case, it confirms our members' worst fears about the management strategy of introducing compulsory redundancy at the BBC," she said.
"By the deliberate BBC decision to provoke this strike action, journalists will lose a day's pay and audiences will suffer for a dispute that is so easily avoidable. The BBC stance looks stubborn and provocative."
The BBC said it would continue with its efforts to reduce the need for compulsory redundancies.
"Industrial action will not alter the fact that the BBC is faced with a number of potential compulsory redundancies, following significant cuts to the central government grants that support the World Service and BBC Monitoring," a spokesman said.
Lucy Adams, the BBC's business operations director, said in an e-mail to staff that around 14% of those who had been due on duty had decided not to work, and six out of seven staff were working normally.
She said: "The NUJ are still asking us to agree to a policy of no compulsory redundancies - which we are simply unable to do. There is no business of our size that could commit to this policy, especially when central government funding is withdrawn.
"We are committed to maintaining an ongoing dialogue with the NUJ and are always open to using the service of Acas. However, in these circumstances, a meeting with Acas would still not allow us to find around 100 staff new jobs."
Related Internet Links
The BBC is not responsible for the content of external sites.