Matt Smith drops in on Doctor Who theatre show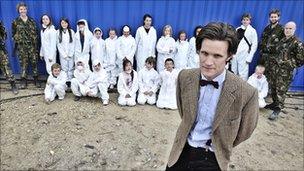 Doctor Who actor Matt Smith has made a surprise appearance in a highly acclaimed "immersive" theatre production based on the TV show.
Smith appeared in character in front of 25 fans aged 9-12 at a performance of The Crash of the Elysium at the Manchester International Festival.
The show puts the audience at the heart of a Doctor Who adventure and are told it is up to them to save the world.
Smith is normally seen on screens but appeared in person on Friday.
The Crash of the Elysium, created by theatre company Punchdrunk, has earned a series of five-star reviews in national newspapers.
The audience members are told to wear chemical decontamination suits as they are led through a series of rooms by actors dressed as soldiers, looking for clues and being chased by the Doctor's enemies.
Smith said the show was "a marriage made in creative space heaven".
"I've always watched Punchdrunk shows and marvelled at their inventiveness and individuality," he said.
"Put that together with Doctor Who and there is a wonderful template to tell unique stories in unique ways. The Doctor would definitely approve."
The Crash of the Elysium is one of the highlights of the Manchester International Festival, which ends on Sunday and also involves new works by Victoria Wood, Damon Albarn and Marina Abramovic.
Related Internet Links
The BBC is not responsible for the content of external sites.