Googie Withers dies in Australia aged 94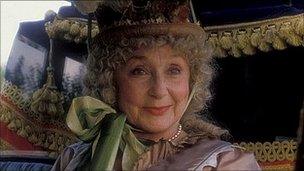 Actress Googie Withers, best known for appearing in Alfred Hitchcock's The Lady Vanishes and TV's Within These Walls, has died in Australia aged 94.
She was born Georgette Lizette Withers in what was then British India. She died at her home on Friday.
She was the first non-Australian to be awarded an Officer of the Order of Australia and was appointed a Commander of the Order of the British Empire.
Her last role was in the Oscar-nominated 1996 Australian movie Shine.
Withers's family moved back to Britain from India and she began acting at age 12.
She had been given her nickname Googie by her Indian nanny.
She was working as a dancer in a West End production in London when she was offered work in 1935 as a film extra in The Girl in the Crowd.
Withers, who had three children, appeared in dozens of films in the 1930s and 40s.
She played Blanche in 1938's The Lady Vanishes, opposite Margaret Lockwood and Michael Redgrave.
Later in her career she appeared in several television productions, including prison drama Within These Walls on ITV and the BBC's Hotel du Lac and Northanger Abbey.
In 1958, Withers moved to Australia with her husband, Australian actor John McCallum - he helped create the classic television series, Skippy the Bush Kangaroo.
The couple co-starred in 10 films, and they lived together in Sydney until McCallum died last year at the age of 91.