Four compete to be crowned The Apprentice by Lord Sugar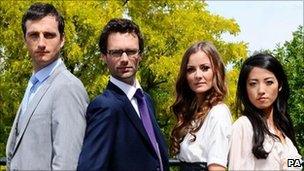 Four finalists are set to battle it out to be crowned winner of the seventh season of BBC One's The Apprentice.
Jim Eastwood, Susan Ma, Helen Milligan and Tom Pellereau are all competing to hear the words "You're hired" by judge Lord Sugar.
The winner will receive a £250,000 investment from the Amstrad boss to start or expand their own business.
The final will also see the return of advisor Margaret Mountford who grills the finalists on their business plans.
Lord Sugar's right-hand woman was replaced by football boss Karen Brady after Mountford left the show in 2009 to pursue academic studies.
Of the contestants, skincare entrepreneur Ma has faced Lord Sugar three times in the boardroom as has inventor Pellereau.
Milligan, an executive assistant to a CEO, has been called back to the boardroom just the once, while Eastwood, a sales and marketing manager from Northern Ireland, has made two boardroom appearances.
Business heavyweights Claude Littner, Mike Soutar and Matthew Riley will also grill the finalists before the final showdown with Lord Sugar.
The Apprentice final is on BBC One at 2100 BST and for the following seven days on the iPlayer.