Harry Potter film takes $168m to break ticket records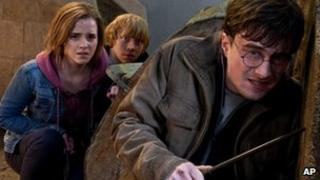 The final Harry Potter movie has shattered box office records in the US and Canada, taking $168m (£104m) over its opening weekend.
Harry Potter and the Deathly Hallows: Part 2 had already made $92.1m (£57m) on its opening day, said the film's distributor, Warner Bros.
The previous opening weekend record was held by Batman film The Dark Knight, which took $158m.
The Potter film is the eighth movie in the hugely popular franchise.
Fans around the world queued for hours to be among the first to see the film, which was based on the second part of JK Rowling's seventh and final book in the series.
Most cinemas were showing the film in 3D, which slightly increased the ticket price.
The entire Potter film series has so far earned more than £4bn worldwide, not including the final film's takings so far. Internationally, the film had taken $157.5m by Friday.
"A billion dollars is definitely going to happen," said Dan Fellman, head of domestic distribution at Warner Bros.
It has been 10 years since the first movie in the series, Harry Potter and the Philosopher's Stone, was released.
It made stars of its young cast, Daniel Radcliffe, Emma Watson and Rupert Grint.
The previous box office record for a single day belonged to The Twilight Saga: New Moon, which made $72.7m (£45m) on its opening.