Jane Fonda 'dropped' from QVC channel appearance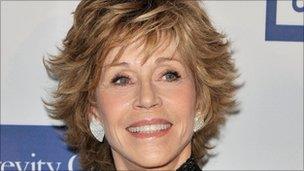 Actress Jane Fonda has accused QVC of cancelling her appearance on the TV shopping channel because of her Vietnam war activism.
In a statement on her website, Fonda said QVC told her they had received "a lot of calls" from viewers criticising her opposition to the Vietnam war.
The 73-year-old was due to appear on Saturday to promote her new book on ageing, titled Prime Time.
But a spokesman for QVC specified no reason for the decision.
"QVC is live 24 hours a day and welcomes more than 22,000 guests a year. It's not unusual to have a schedule change with our shows and guests with little or no notice," a spokesman told Reuters.
"I can't speak to Ms Fonda's comments, other than to confirm that a change in scheduling resulted in her not appearing today."
The spokesman said it was not unusual for schedules to change with little or no notice.
Fonda is not currently re-scheduled to appear.
Fonda, who also referred to the situation in a blog posting on showbusiness website TheWrap.com, wrote that she was "deeply disappointed" at the decision.
Some people in the US still see her as a traitor after a trip to the North Vietnamese capital, Hanoi, in 1972.
She has since apologised for visiting a gun site used to shoot down US planes.
It was the "largest lapse of judgement that I can even imagine", she said.
But she has said she did not regret meeting American prisoners of war in North Vietnam or making broadcasts on Radio Hanoi.
Fonda won Oscars for her roles in Klute in 1971 and Coming Home in 1978.
Related Internet Links
The BBC is not responsible for the content of external sites.