Lord Sugar chooses Tom Pellereau as Apprentice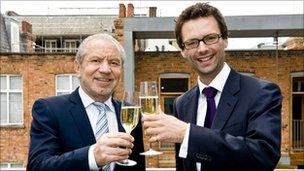 Inventor Tom Pellereau has been named the winner of the seventh series of The Apprentice.
The 32-year-old entrepreneur will receive a £250,000 investment from Amstrad boss Lord Sugar to start or expand his own business.
Lord Sugar, 64, said he had gone with his "gut feeling" when he picked Pellereau, despite reservations over his scheme to design new office chairs.
"I think this result shows that nice guys come first," said Pellereau.
Each of the four finalists on Sunday's show had to come up with a business plan.
Alongside Pellereau's office furniture idea, Jim Eastwood came up with an e-learning service for schools while Susan Ma wanted to expand her organic skincare company.
The fourth finalist, Helen Milligan, aimed to launch a national concierge service.
Pellereau said he had a "huge number of ideas" which he and Lord Sugar would sift through before devising a business plan.
"I'm very much going to listen to him... but there will definitely be some exciting products coming shortly," he said.
"I am a product man in my heart," said Lord Sugar after naming Pellereau as his business partner.
"I've made products and sold them to retailers. That's in my blood and that's what Tom is all about.
"It's just a gut feeling and I've done a lot of things in my life on gut feeling."
Pellereau's win comes despite him being the worst-performing winner of The Apprentice.
The contestant ended up on the losing team on eight of the weekly tasks during the series.
Eastwood, Ma and Milligan had to be satisfied with being runners-up - though Eastwood's consolation prize was a certificate for 'The Best Salesperson in the World', presented by Lord Sugar.
"He doesn't give away compliments easily so that was a major accolade," said Eastwood, whom viewers saw being berated on Sunday's show by former Apprentice adviser Margaret Mountford.