Harry Potter film breaks UK box office records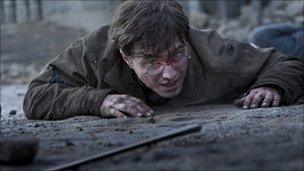 Harry Potter and the Deathly Hallows: Part 2 has broken box office records in the UK after making £23m in its first weekend, Screen Daily has revealed.
The figure breaks records for the UK's biggest three-day weekend, the biggest Friday result, the biggest Saturday result and biggest single day figures.
Harry Potter and the Deathly Hallows: Part 1 set five UK records last year - but Part 2 has broken four of them.
It is the eighth and final film in the blockbuster fantasy series.
Deathly Hallows: Part 1 - which made £18.3m in its first weekend last year - still holds the record for the biggest Sunday result in the UK and Ireland.
However, this may change when more figures are released later.
Harry Potter and the Half-Blood Prince, the sixth film in the franchise, was the highest earning release of 2009, taking nearly £51m in the UK and Ireland.
But Deathly Hallows: Part 1 was the UK's third biggest film in 2010, having been pipped to the post by Toy Story 3 and Avatar.
Three other Potter films have been the top-grossing movies in the year they were released in the UK.
They were series opener Harry Potter and the Philosopher's Stone in 2001, fourth instalment Harry Potter and the Goblet of Fire in 2005 and the fifth entry, Harry Potter and the Order of the Phoenix, in 2007.
According to Warner Bros, Harry Potter and the Deathly Hallows: Part 2 has made $475.6m (£295.6m) worldwide since its release on Wednesday.
The movie has shattered box office records in the US and Canada after taking $168m (£104m) over its opening weekend.
"Harry Potter is truly a cultural phenomenon the world over," said Veronika Kwan-Rubinek, Warner's president of distribution.
"International audiences have embraced the Harry Potter films over the years, with the powerful finale punctuating just how special the property is."
Most cinemas in the UK are showing the film in 3D, resulting in increased ticket prices that will impact on its overall takings.
Pirates of the Caribbean: On Stranger Tides had previously enjoyed the UK's most successful opening weekend of 2011, having made £11.6m in its first weekend in May.
The final Harry Potter movie has also broken global box office records for films shown in the large-scale Imax format.
The UK was among a number of countries to post a new benchmark, Deathly Hallows: Part 2 having made £684,000 from the 15 Imax screens on which it screened.
Almost a fifth of that figure was generated by the BFI Imax in London, which shifted £118,000 in tickets between Friday and Sunday.
In the US and Canada, Imax screenings of the final Potter adventure generated $15.5m (£9.63m) during the weekend.
Related Internet Links
The BBC is not responsible for the content of external sites.