Poussin paintings vandalised at National Gallery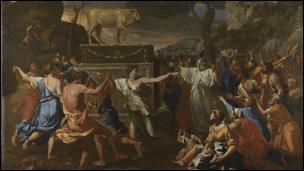 Two paintings by Nicholas Poussin have been sprayed with red paint by a vandal at the National Gallery in London.
The alarm was raised after a gallery assistant spotted a man appearing to spray the works with an aerosol can.
The Adoration of the Golden Calf and The Adoration of the Shepherds were painted between 1633 and 1634.
The incident happened just after 1700BST on Sunday. The police were called shortly afterwards and a man was arrested.
The gallery said: "Prompt action by conservation staff has ensured very little damage was sustained by the two works.".
Both oil paintings are part of the gallery's permanent collection and are hung in room 19.
Following conservation work, they have now been re-hung in their usual place.
The Adoration of the Golden Calf was bought with a contribution from The Art Fund in 1945.
It depicts Moses's anger when he returns from Mount Senai to find the Israelites have built an idol and are worshipping it with song and dance.
The Adoration of the Shepherds was also bought with Art Fund money and a special grant in 1957. It depicts shepherds visiting the baby Jesus in a stable.
Poussin is considered to be the most important French painter of the 17th Century.
He was born in 1594 in Normandy and first trained in Rouen before settling in Rome in 1624.
From the late 1630s he began to paint landscapes and his early work was influenced by Venetian art, specifically the painter Titian. The artist later turned to painting religious and allegorical works.
Related Internet Links
The BBC is not responsible for the content of external sites.