Gary Glitter complaint dismissed by Ofcom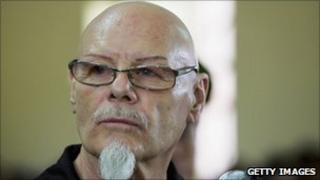 Media watchdog Ofcom has dismissed a complaint from Gary Glitter about a 2009 TV drama that imagined the glam rocker being executed for child rape.
Glitter - real name Paul Gadd - said Channel 4's The Execution of Gary Glitter had treated him unfairly.
Viewers might have concluded he had committed "terrible" crimes that had gone unpunished, he complained.
But Ofcom said it was clear the drama was fictional and Glitter had a well-known history of child sex offences.
In November 1999 the disgraced glam rocker was sentenced to four months in a UK prison for possessing images of child sex abuse.
In March 2006 he was convicted for the sexual abuse of two Vietnamese girls and served almost three years in prison in Vietnam.
In his complaint Glitter said he had never been prosecuted in Vietnam for child rape.
But Ofcom concluded that in view of Glitter's "well-known reputation in relation to child sex offences", there was "little scope for additional damage to his reputation".
The regulator noted that the drama did include real facts and said it might not have been clear where fact and fiction overlapped.
But it found the programme as a whole was clearly fictional, including the scenes where the charge of child rape was first raised.
Channel 4, it added, had signposted the fact the drama was set in a fictional Britain that had the death penalty in several ways.
The committee concluded that, as there was no unfairness to Glitter in the programme, the complaint of unfair treatment would not be upheld.