JK Rowling 'plagiarism' case fails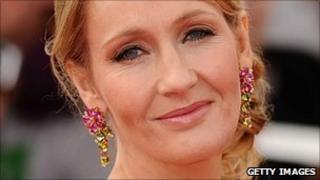 A legal claim that JK Rowling lifted the plot of one of her Harry Potter books from the work of another writer is to go no further.
The estate of late author Adrian Jacobs had claimed Harry Potter and the Goblet of Fire plagiarised parts of his book, The Adventures of Willy the Wizard.
The Court of Appeal had ordered the estate to pay the first stage of £1.5m as security for costs by last Friday.
Because no payment was made to the court, the claim has now failed.
It marks the end of a seven-year attempt by Paul Allen, the trustee of the estate of Adrian Jacobs, to win the case against Rowling and her publisher Bloomsbury.
"The whole thing is a scandal," said David Hooper, a solicitor for Bloomsbury. "It was an absolutely ludicrous case."
Rowling had described the claim as "not only unfounded but absurd", saying she had not seen the book until the claim was launched in 2004.
Children's author Jacobs died in 1997.
'No chance of success'
"An enormous amount of time has been wasted having to defend against this claim, when it was quite obvious to us from the outset that it had no chance of success," said Rowling's solicitor Gideon Benaim.
"We are glad that the substantive action is now at an end."
In March, Mr Justice Kitchin ordered the estate of Jacobs to make a payment into court to pay security for 65% of the costs faced by Rowling and Bloomsbury.
The first payment, originally due in April, was delayed after Jacobs's estate appealed against the decision.
Last Thursday the Court of Appeal rejected that appeal, ordering Mr Allen to pay the money within 24 hours.
Mr Allen had brought the same claim in the US against Rowling and her US publisher Scholastic. That claim was rejected earlier this year.
It alleged Rowling copied elements of Jacobs' 1987 book, among them a wizard contest and the notion of wizards travelling on trains.
But a New York district judge ruled "the contrast between the total concept and feel of the works [was] so stark" that "any serious comparison of the two strains credulity".
The first Harry Potter book was published in 1997 and the series has sold more than 400 million copies worldwide.
Harry Potter and the Deathly Hallows: Part 2, the last film in the series inspired by Rowling's novels, is now in cinemas.