Amy Winehouse band member recalls reluctant star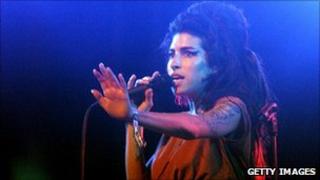 When Amy Winehouse recorded her multi-million selling album Back To Black and took it on tour in the US, she chose soul group The Dap-Kings as her backing band.
Saxophonist Neal Sugarman, who played on songs like Rehab and Back To Black, recalls what the singer was like on the road and in the studio, and discusses her "depressing" decline.
"I was in the studio for Back To Black sessions and a couple of other things with Amy, and then on her first US tour. When I first met her, she came over to do some vocals and she hadn't broken out in the States.
"I arranged some of the rehearsals. She was a great musician and really open. She was really into collaborating with the band and never came off as being bull-headed in any way.
"All she wanted to do was get everyone's impression of where the music was going and for everyone to put their creative aspects into the music.
"Every time we were with her, it was never as if we were with this star. I think that might have been one of the things that haunted her -she really liked being with people one-to-one, especially with musicians.
"I think she used to like coming to New York in her early days because we would all go out to dinner together and she wasn't being recognised the same way as she was in the UK.
"It seemed as though the best times were when we were able to be casual and just get into music.
"The tour was right when Back To Black came out. One of the things she used to do was play really good mixes before we'd go on stage. We'd always be listening to The Supremes or some doo-wop or girl group stuff. It wasn't as if she had her own dressing room - we were all together getting ready for the shows.
"I feel really lucky to be part of what was obviously a great record that touched a lot of people. It was a true crossover record, which is rare in these times. What great art does is touch a lot of people and that's what her record did.
"When we were doing these gigs, there were black people, white people, gay people, straight people. She really was able to touch a nerve and it was uncompromised.
"The gigs that we had with her were fantastic and there might have been one gig we had with her in San Francisco where she got a little too loaded and the management came around and were giving her the sign to cut it off.
"We were able to play some great music with her. It was a real creative time. There are so many singers who are trying to copy what she did and for me she's a real natural.
"To be honest, the tour was a weird time because she had split up from her boyfriend Blake for a short time.
"When I first met her she was seeing this other dude, and to be honest when Blake came back - I think it was the second tour we did with her - it wasn't as fun. She was obviously starting to do drugs at that point.
"And then unfortunately the last time I saw her, which was a little while ago in London, it was not a pretty sight. It was real depressing. We cut something that she wasn't able to sing on, which was a real drag.
"Everyone loved looking at the tabloids but everyone was hoping that she would make a comeback."
Neal Sugarman was speaking to BBC News entertainment reporter Ian Youngs.