Amy Winehouse: Addiction treatments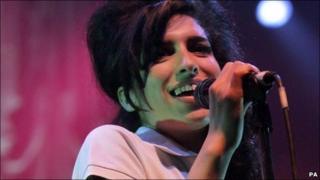 Singer Amy Winehouse's struggle with addiction to drink and drugs has been well-documented.
In an interview at the Mercury Prize ceremony in 2007 she spoke about her rehabilitation.
"I'm of the school of thought where, if you can't sort something out for yourself, no one can help you," she said.
"Rehab is great for some people but not others."
Here is a look at some of the treatment she received over the past few years
August 2007
Winehouse spends time in a London hospital being treated for "severe exhaustion" before she and then-husband, Blake Fielder-Civil, go into a rehabilitation clinic. Father Mitch says he is "so very proud of the pair of them and the way they have handled this very difficult situation".
November 2007
She is ordered to take "complete rest" by doctors to "deal with her health issues".
January 2008
Checks into rehabilitation clinic after The Sun obtains a video of her apparently smoking a crack cocaine pipe.
May 2008
Family member calls BBC Radio 5 live - identifying herself only as Sue - to say the press should leave her alone. "Please let her finish her rehabilitation - let her try to get off the stuff and then we'll have the Amy we all want," she says.
June 2008
Her father reveals she has "traces" of the lung disease emphysema but is "responding brilliantly to treatment". He calls on "drug dealers, and they know who they are, if they are supplying crack to Amy, then they've got to take responsibility".
July 2008
Her parents reveal waxwork model at Madame Tussauds saying she is "on a drug replacement programme and she's doing really well".
June 2009
Mitch Winehouse says his daughter is in a drug treatment programme but is still drinking. He says it's "a gradual recovery... with slight backwards steps". There are further reports in the following months that she has been readmitted to rehabilitation.
May 2011
Begins a treatment programme at the Priory Clinic in London. A spokesperson says she "wants to be ready for performances in Europe this summer and decided to seek an assessment. She will remain at the Priory on doctor's advice."
June 2011
A week later, she checks out. Her spokesman says she has "completed her assessment" and will continue as an outpatient.